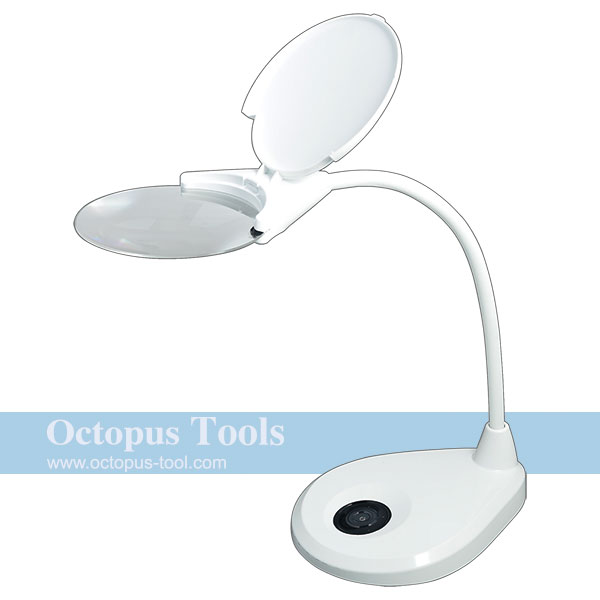 Brand:
Octopus
Magnifier and Desk Lamp 110-220V


Magnifier and Desk Lamp 110-220V

◆ Lens Dia.: 5"
◆ Acrylic Lens
◆ Magnification: x3
◆ LED 1W x 3, lower power consumption and higher energy saving
◆ Input: AC100~240V / Output: DC12V
◆ 260 lumen
◆ With 4-level adjustable brightness, you can slide your finger on the sensitive switch to adjust brightness.
◆ Great magnifier lamp for inspection, jewelry design, craftmen and hobbist.

Please feel free to discuss with us your Lighting and Magnifying plan, and choose the best solution for your requirements.


Magnifier and Desk Lamp 110-220V

Combination Scissors PH-57 Engineer

Length: 210mm
Width: 98mm
Blade Thickness: 3mm
Blade Material: Stainless Steel
Handle Material: ABS & TPR
Cap Material: ABS
Weight: 136g

◆ Micro-serrations can hold the object without slippage such as Aramid fiber, plastic plate, etc.
◆ U-shaped blade is ideal for cutting power supply cord, coaxiale cable, rope, etc.
◆ TPR cushioned handles provide comfort gripping.
◆ Finger pinch overlapping guard prevents fingers from being pinched.



Cutting Capacity (Reference Only):

1. Coaxial cable (Conductor dia. 1.0mm)
2. Cabtire cord Ext. dia. 12mm (4 cores)
3. Cotton insulated cord
4. Rope dia. 10mm
5. PP Plate 1.2mm thick
6. Leather belt 5mm thick
7. Kevlar Aramid fiber
8. Copper braided flat wire

* Do not apply copper or steel wire to the Micro-serration to prolong the life of blades.
* Heat-treated or specially-hardened wire is not applicable for cutting. It may damage the blades.


Hand Held LED Magnifier X2 / X6

◆ 2X / 6X magnification
◆ Size: 100x60mm
◆ 2 AAA batteries required
◆ Energy-efficient LED light provides bright illumination.
◆ Suitable for reading books and newspapers and checking collections
◆ Foldable handles saves the storage space.