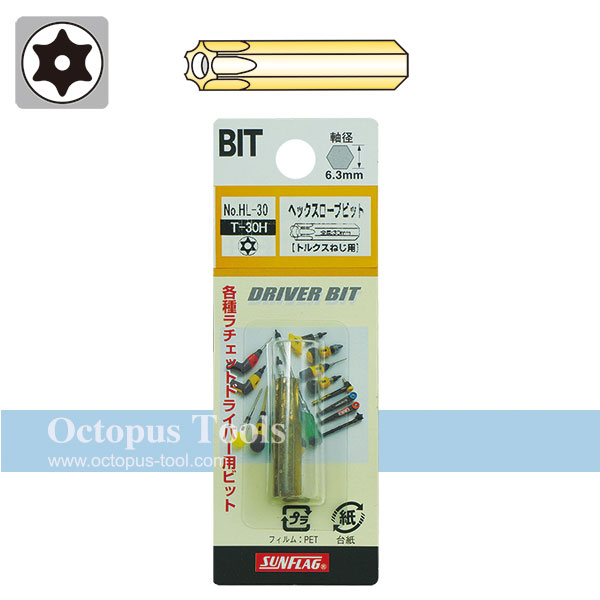 Brand:
SUNFLAG
Driver Bit, Torx T-30H


Driver Bit, Torx T-30H

◆ Torx T-30H
◆ Hex 6.35mm
◆ Length: 30mm


Driver Bit, Torx T-30H

Electric Screwdriver SK-2125LSA 110V

◆ Your best tool in driving and removing screws!
◆ Light weight, compact, and ergonomic handle
◆ Input Voltage: AC 110V
◆ Current: 0.3A
◆ Torque: 5 ~ 25 Kgf.cm, 4.4 ~ 22 Lbf.in
◆ No-load speed: 1000 r.p.m.
◆ Weight: 600g
◆ Length: 264 mm
◆ For screwdriving bit 5mm A type Hex
◆ For machine screw diameter 2.6 ~ 5.0 mm, and tapping screw diameter 2.6 ~ 4.0 mm


Long Arm Tamper Resistant Star Key Set 9 Pieces

◆ S2 steel provides strength and durability.
◆ Plated surface resists corrosion.
◆ Contains T10, T15, T20, T25, T27, T30, T40, T45, T50
◆ Long design for maximum torque
◆ For tamper resistant screws
◆ Case included


LED Magnifier Lamp w/ Clamp 10X

Magnification: 10X
Illumination: 1000 lumen
Light: 81 LED bulbs in white light
Material of Lens: Glass
Lens Size: 5"
Voltage: 100-240V
Working voltage: DC 12V
Power: 8W
Color Temperature: 6000K
Life-time: 25000hours

◆ Use transformer to supply power, 100~240V
◆ Clamp holds firm to desk up to 60mm thick.
◆ Switch on/off by touch panel, keep pressing for switching the strength of light.
◆ Lighting memory function remembers your setting next time when you switch on.
◆ High transparency of glass allows clear vision. Can turn the light with 180°, soft light and do not sparkle when switch on
◆ 81 LED lights, high brightness and long usage life
◆ Flash diffuser provides eye-pleasing experience.
◆ White energy-saving LED saves money on power consumption.