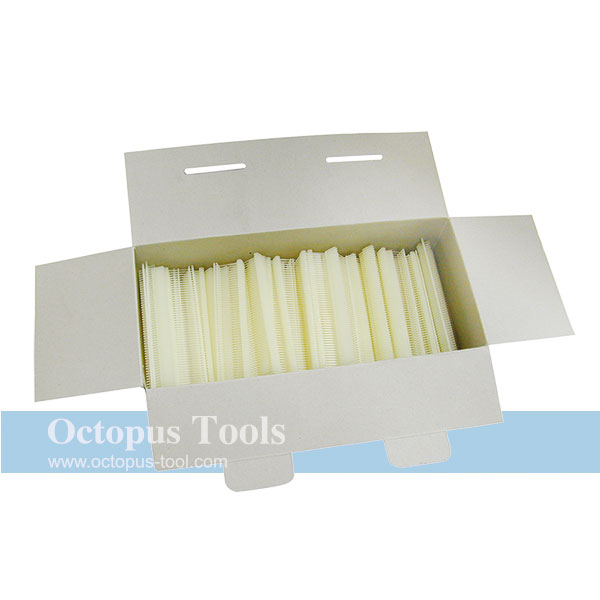 Brand:
ARROW
Barbs, Attachments, Fasteners 45mm


Barbs, Attachments, Fasteners 45mm

◆ 45mm long 
◆ 5000 pcs / pack
◆ For Price Label Tag Tagging Gun P/N 720.110
◆ All sizes are as follows,
P/N 720.335 35mm 
P/N 720.345 45mm 


Barbs, Attachments, Fasteners 45mm

Hand-held Heat Sealer 110V/220V

[Specifications]:

Voltage: 110V / 220V
Power: 14.5W
Weight: 300g
Sealing Length: 10mm
Dimension: 13 x 24 x 4cm
Box Dimension: 22.5 x 4.5 x 11cm (8.8" x 1.7" x 4.3")

[Features]:

◆ Temperature can be adjusted in two phases, 180℃ and 210℃.
◆ This heat sealer can apply on PSP, PVC, OPS and EPS.
◆ With its light weight and easy-to-operate feature, this hand-held heat sealer makes sealing not a hassle at all.


Combination Scissors PH-57 Engineer

Length: 210mm
Width: 98mm
Blade Thickness: 3mm
Blade Material: Stainless Steel
Handle Material: ABS & TPR
Cap Material: ABS
Weight: 136g

◆ Micro-serrations can hold the object without slippage such as Aramid fiber, plastic plate, etc.
◆ U-shaped blade is ideal for cutting power supply cord, coaxiale cable, rope, etc.
◆ TPR cushioned handles provide comfort gripping.
◆ Finger pinch overlapping guard prevents fingers from being pinched.



Cutting Capacity (Reference Only):

1. Coaxial cable (Conductor dia. 1.0mm)
2. Cabtire cord Ext. dia. 12mm (4 cores)
3. Cotton insulated cord
4. Rope dia. 10mm
5. PP Plate 1.2mm thick
6. Leather belt 5mm thick
7. Kevlar Aramid fiber
8. Copper braided flat wire

* Do not apply copper or steel wire to the Micro-serration to prolong the life of blades.
* Heat-treated or specially-hardened wire is not applicable for cutting. It may damage the blades.