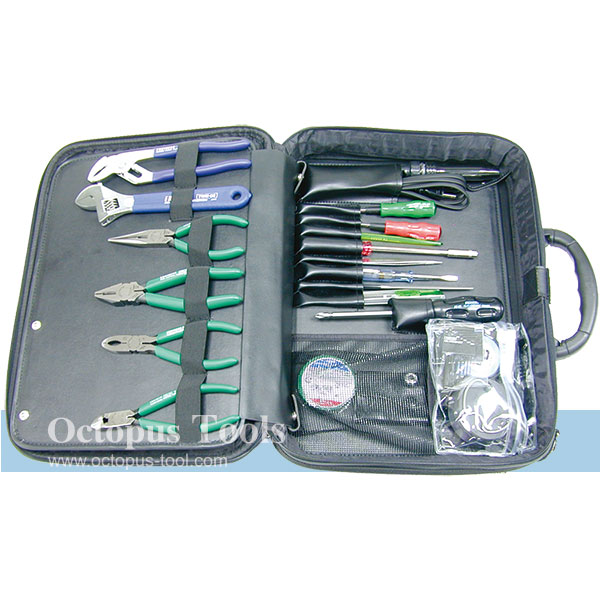 Brand:
ENGINEER
Tool Kit (22 pcs / set)


Tool Kit (22 pcs / set)

◆ For general purpose, with free space for your customized requiements.
◆ Soft EVA plastic case with double panels
◆ With A4-sized pocket on the reverse of upper panel designed for documents or measuring instruments (max. 40mm thick and 330mm wide)
◆ Tool panel can be easily detached from the case, convenient for field work
◆ This kit includes,
◎ 150㎜ Slant edge nippers
◎ 150mm Long nose pliers
◎ 150mm Side cutting pliers
◎ 150mm Screw pliers
◎ 200mm Pump pliers
◎ 125mm Tweezers
◎ 100mm Alignment driver
◎ Circuit testing driver
◎ 5.5mm Nut driver
◎ Reversible cushion driver Philips #2 / Slotted 6
◎ Mini soft driver Slotted 3mm
◎ Mini soft driver Slotted Philips #0
◎ Ceramic Soldering Iron (26W/100V or 30W/220-240V)
◎ Tip cleaner w/stand
◎ 20g Solder
◎ File (half-round)
◎ Measuring tape 2M
◎ Mini spanner set (5-in-1)
◎ Hex key wrench set (7-in-1)
◎ Adjustable angle wrench 200mm
◎ Cutter knife (S)
◎ Vinyl tape
◆ Internal Size : 380 x 276 x 73mm
◆ External Size : 405 x 306 x 100mm
◆ Weight : 3.7 kgs
◆ Empty case with panels available


Tool Kit (22 pcs / set)

Pipe Repair Epoxy Adhesive Stick 50g

[Specifications]:

Capacity: 50g
Work Time: 10mins

[Features]:

◆ Formulated to adhere cracks on pipes and is widely applied in repair work.
◆ Wide applications on caulking and adhering for PVC pipe.


Groove Joint Water Pump Pliers 10"

◆ Material: Chrome Vanadium Steel
◆ Big Jaw, maximum opening 50mm
◆ Fine tooth, micro adjustment
◆ Drop forged and heat treated
◆ Machined jaws grip securely on round and flat shapes
◆ Black finish and non-slip handles
◆ Used for plumbing and general applications


[Specifications]:

Material : Carbon steel
Hole Size: Dia. 3-11.5mm
Blade: 81mm
Overall Length: 127mm
Hardness: HRC55-58

[Features]:

◆ A professional pipe deburring tool.
◆ Tapered blade ideal for reaming holes in sheet metal, aluminum and similar materials.
◆ The bit can be used with the standard T-handle or other interchangeable handles (6.35mm hex drive).
◆ It can be attached to a power driver, too. (Not for use with Impact Drivers).