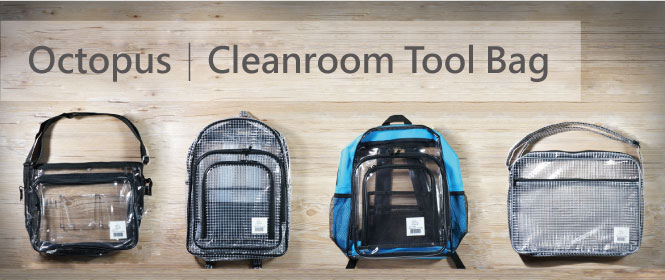 Octopus Selected Cleanroom Bags/Backpacks are designed specially for people working in cleanroom environments with the need of storing tools, accessories, and personal belongings.

Features of our Selected Cleanroom Bags/Backpacks…

Transparency Transparent design for you to easily see through the bag. Clear bags can be used not only in cleanroom working environments but also can be applied where transparency is required, such as airport and stadium sporting events for security reason.


Durability Made of durable and waterproof PVC, our Cleanroom Bags/Backpacks are ideal for you to carry laptops, tablets, phones…and your personal items all together while commuting between office and home. The stitching connections are always reinforced for extra reliability.



Comfort Long and adjustable straps are designed to disperse weight for more carrying comfort. We are devoted to make Cleanroom Bags/Backpacks most suitable for every user.


Thoughtful Design Your demand for spacious room for everything and make everything organized is heard! Exterior and interior design are based on different storage requirement of various items. In addition to main compartment and dual zippers design, some of our models are equipped with zippered pockets, mesh organizers, or side pockets to make everything in place.



Full-covered Design Full-covered PVC models are also available to meet your highest standard in cleanroom supplies. Including straps and main body, each part of the Cleanroom Bags/Backpacks are covered with PVC to prevent tarnishing and reduce the possibility of being dusted. Any grime can be wiped easily.


ESD safe Whenever there is a need to protect the devices and components against ESD in the transit, this messenger style bag is a very useful and practical solution. Electrons flow easily across the surface of the bag by its carbon printing in honeycomb patterns.


These are the exact Cleanroom Bags/Backpacks you are looking for!
Go For More Details


---
A little more about us…

Want many different items but all in small quantity?

Not a problem, we understand your need to create your own workshop or your endeavors in starting your own business, let us help you start with small volume and deliver to your doorstep!

Want to have your own logo printed on the product or on the packing materials?

Not a problem, we have an enthusiastic design team will work with you along the way discussing layouts and confirm the printing details with you!