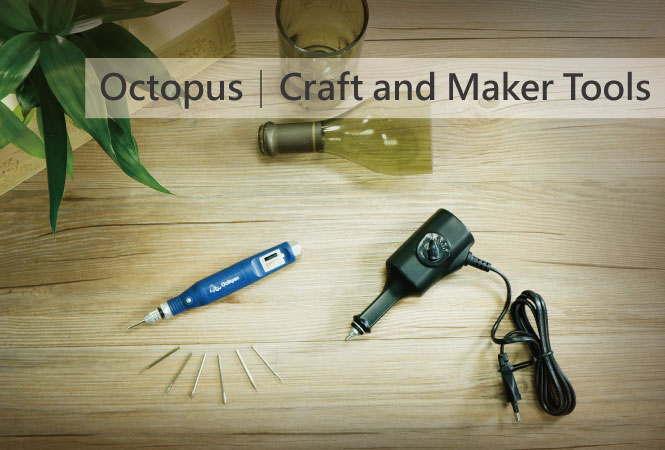 Uniqueness is in your hand! Have you ever thought turning fixed outlooks of every-day-use wineglass into the style of your own? Or changing the face of your ordinary wooden drawers with your favorite animation figure engraved on it? These ideas will soon be realized through your hands. Let us introduce some handy and easy-to-use tools that really illuminate daily life and turn tedious objects into personalized and creative projects.
Before we start the adventure of creation for uniqueness, here are some preparations need to be done to protect ourselves. Always wear eye protection while using tools, and to prevent inhaling dusts and particles, it is also recommended to keep the working environment with good ventilation and wear masks when needed.
Tools That Begin the Adventure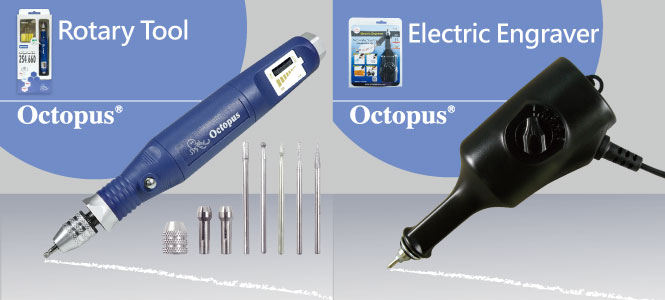 Octopus Electric Engraver and Octopus Rotary Tool are two basic tool sets that you will need to start the adventure of being a maker and creating craft your own! These two basic tools really make engraving and polishing as easy as writing!
Octopus Electric Engraver
Octopus Electric Engraver equipped with tungsten carbide point tip makes marking on stones, glass, and metals a lot less fatigue and more ease with its reciprocating movement and adjustable stoke levels. That's why Octopus Electric Engraver is usually the first tool that is being used to outline before carving knifes or chisel tools step in. Depths of engraving are easily adjusted by turning the knob to control the stoke level and very convenient to apply on different materials.
When creating customized jewelry, Octopus Electric Engraver is a great device that helps transmit hearty messages from the hand of the maker to the cold metal surface and precious stones. This Engraver can be maneuvered easily and reflect original hand-writing on crafts.

When marking is required in situation such as identifying personal items from others or engraving information on equipments or machines used in the factory or production lines, this Octopus Electric Engraver offers a simple and intuitive solution for individuals and business whenever marking and identifying is needed.
Octopus Rotary Tool
Handmade craft such as personalized silver ring, wooden plate or glassware needs to be grinded and polished with suitable materials and grades of abrasive solutions before it's finally completed. Octopus Rotary Tool is here to make these procedures as intuitive as holding a pen and its simplicity poses no entry barrier for beginners that just set out on their handmade journey.

No loud noise will be generated when plugging in this rotary tool, as you grind and polish, ambience of calm reverberate peace inside your mind at the same time. Additionally, its lightweight design keeps you enjoy crafting without feeling fatigued for holding some heavy tool. And best of all, its collet nut is compatible with most rotary tool accessories thus making this tool as versatile as possible! Whether the task is grinding, polishing, buffing, drilling, etching on plastics, wood, and metals, or even manicure, all you need is to change the mounted bits/wheels in the front of the rotary tool, the tool will be transformed into the tool you need in completing your DIY task.
>> See All Sorts of Mounted Points/Bits/Wheels
Relaxing experience can be obtained when you take a trip, but you don't have to go far in order to feel relaxed. Start crafting and being a maker today, you will feel free and calm too! Comprehensive Octopus Craft and Maker Tools are always easy to get and please write to us if you need any tool recommendations in the crafting adventure!
E-mail: juliette@octopus.com.tw