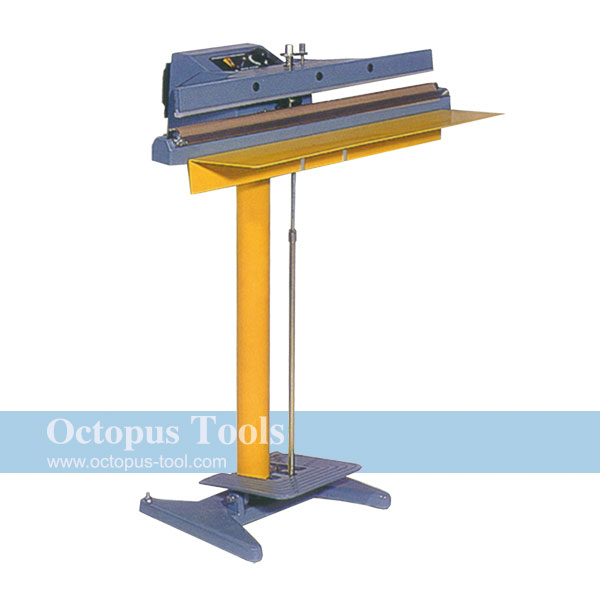 Brand:
Double Leopards
Foot Pedal Impulse Sealer (24", 110V)


Foot Pedal Impulse Sealer (24", 110V)

◆ Application: PP, PE, PVC bag
◆ Voltage: 110V
◆ Power: 800 W
◆ Weight: 21 kg
◆ Sealing Width: 24" (600 mm) / Sealing Thickness: 0.4 mm
◆ Perfect for retail, grocery stores and industrial sealing use


Foot Pedal Impulse Sealer (24", 110V)

Hand-held Heat Sealer 110V/220V

[Specifications]:

Voltage: 110V / 220V
Power: 14.5W
Weight: 300g
Sealing Length: 10mm
Dimension: 13 x 24 x 4cm
Box Dimension: 22.5 x 4.5 x 11cm (8.8" x 1.7" x 4.3")

[Features]:

◆ Temperature can be adjusted in two phases, 180℃ and 210℃.
◆ This heat sealer can apply on PSP, PVC, OPS and EPS.
◆ With its light weight and easy-to-operate feature, this hand-held heat sealer makes sealing not a hassle at all.


Multipurpose Dolly, 4 Unfixed Wheels

[Specifications]:

Outer dimension: 660 x 460 x 140mm
Inter dimension: 650 x 430 x 120mm
Moving up to 200-300kgs
Material: PP
Wheels: 4 unfixed 3" PU wheels
Weight: 6kg

[Features]:

◆ Ideal for personal use or for packing, food, logistic, and any other industries.
◆ Lightweight and durability make it ideal for anyone who needs to move heavy items around.
◆ Perfect for home or office packing.


Capacity: 10L

◆ For workshop, industry, and hobby.
◆ Croldi hand wash paste cleans thoroughly and protects skin from all kinds of oil, grease, and lubricants.
◆ Bio-degradable and clinically tested.

[How To Use]:

1. Use a small amount and spread it to clean your hands.
2. Wash off with water.
3. Avoid contact with eyes.
4. If in contact dwith eyes rinse immediately with water.
5. Keep out of reach of children.