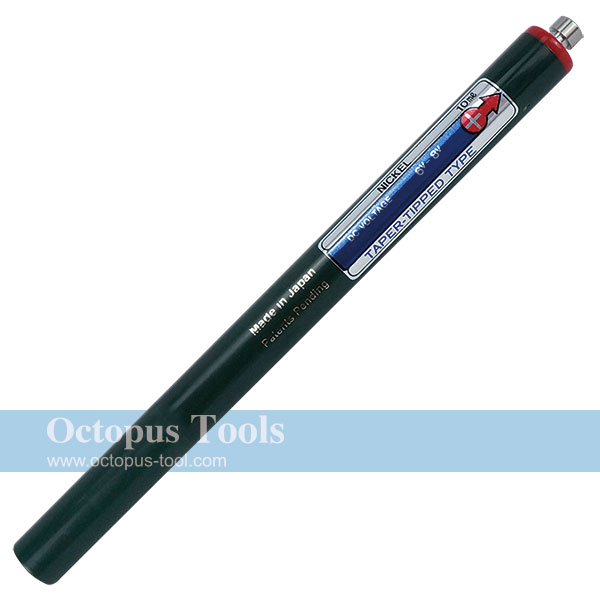 Brand:
PROMEX

Promex Plating Pen Nickel

Promex Plating Pen (Nickel)
◆ P/N: 502-012
◆ With this Plating Pen (Nickel), you can plate quickly and very easily.
◆ The Plating Pen (Nickel) will be expired after 10 months in mint condition. Please use it up in 3 months once being opened.
◆ Each pen contains 10 ml of solutions, and can plate approximately 60 x 60cm area.
◆ Wide applications including Jewelry, frames, watches, ornaments, accessories, and IC Board
◆ For Plating Machine P/N 335.120
◆ If you can't find the Plating Pen you're looking for on our website, please contact our sales team trading@octopus.com.tw for more information.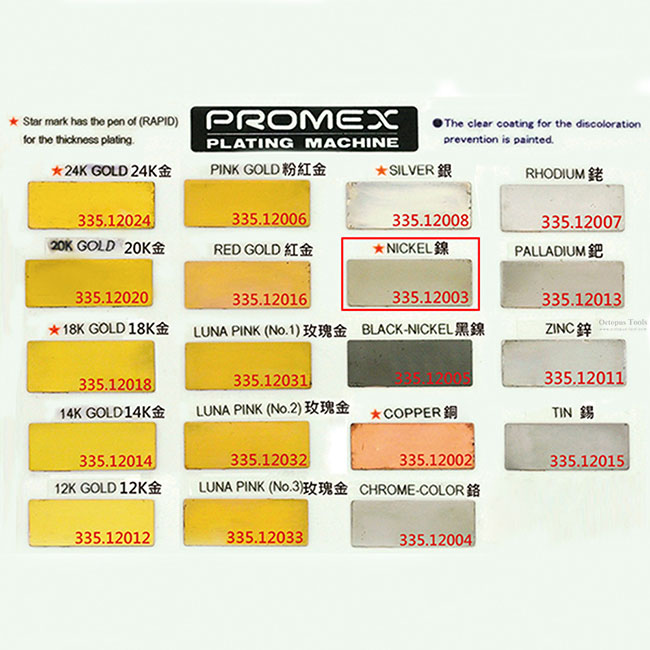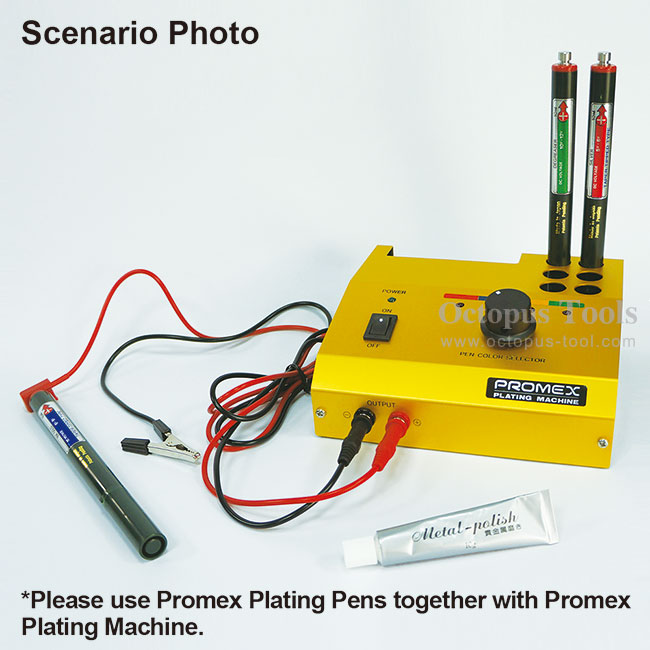 Promex Plating Pen Nickel

Promex Plating Machine Standard Set EX3000/BNP-1

Series: 502-006 Model: EX3000/BNP-1
Input: 110-220V Size: 140x160x75mm Weight: 0.3kg
Content: Plating Machine, Adapter, Connecting Wire, Metal Polishing Paste, Degreasing Paste, Silver Plating Pen, Gold Plating Pen

◆ Each pen contains 10ml of concentrated plating solution and can plate up to 80x80cm of surface.
◆ Plating solution won't deteriorate easily. Shake well before use. It's recommanded to finish in one year. And put the pen right up after use.
◆ Gentlely apply the plating pen to the surface of the object.
◆ Plating solution is ecofriendly and not harmful.
◆ When plating gold or silver on zinc board or lead board, use double concentration plating pen.
◆ For details on how to use this plating machine and its accessories, please read the user manual inside the package.


Magnifier Lamp w/ Clamp 100~240V ESD Safe 5X

[Specifications]:

Lens size: 5"
Magnification Strength: 5 Diopter
Illumination: 80 LED
Input: 100-240V
Power: 5W
Color: Black

[Features]:

◆ White energy-saving LED provides eye-pleasing experience.
◆ Clamp holds firm to desk up to 65mm thick.
◆ Triple-joint arm can be adjusted easily.
◆ With a flip-up cover protects the lens from dust and blocks the magnifying lens when not in use.
◆ ESD safe, suitable for electronic industry environment.