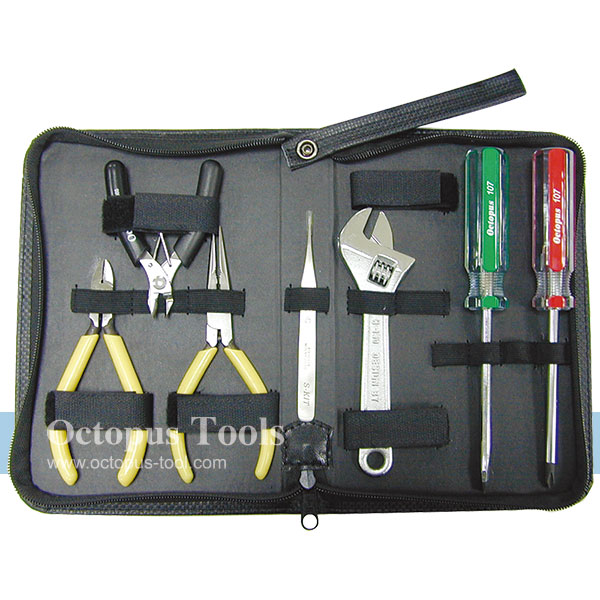 Brand:
Octopus
Home Repair Tool Kit


Home Repair Tool Kit, General Household Tool Set, All Purpose Tool Sets

[Applications]:

Basic Home Repair
Vocational Training Kit

[Package Includes]:

Tool bag 22x15x3.5cm (8.6x6x1.4 inch)
- Strong and wear-resistant

Non-magnetic Tweezers 113mm
Octopus KT-13 Long Nose Pliers 140mm
Octopus KT-18 Diagonal Cutting Pliers 125mm
Octopus KT-603 Flush Cutter 90mm
Magnetic Tip Phillips Screwdriver #2 x 100mm
Magnetic Tip Slotted Screwdriver 6 x 100mm
6" Adjustable Wrench

[Features]:

◆ With spring and serrated jaws, the long nose pliers offers less fatigue user experience and is very durable because of being drop forged and having heat treated steel construction.
◆ The diagonal cutting pliers is sharp for cutting wire, plastic models, crafts, decorations…and more.
◆ The blade of the flush cutter is made of hard and sharp stainless steel. The size of the flush cutter is handy and can fit well in your palm.
◆ Tool cabinet essentials must include long-lasting adjustable wrench and screwdrivers in Philips and Slotted which are versatile and always helpful.

[More about S-Turbo Tool Sets]:

Flexibility and Versatility

All tool kits from S-Turbo can be customized and the contents of tool kits including the bag that organizes everything can be adjusted according to your specific demands. Whatever the applications are, we can always provide the right tool kit! With more than 4,000 tool items kept in our warehouse, our strength is to offer the exact combination of tools you need. If you would like to print or laser-engrave your brand or logo on the outer surface of tool kits or on body of tools, we can also support your branding requirement.

Who will need tool sets/kits from S-Turbo?

If you are training centers or schools for technicians and engineers, service providers for telecoms equipment repair, service centers for automotive repairs, or searching for right tool kits to run maker space, you are always welcome to discuss your tool kits requirement with us!

Moreover, our tool kits are perfect for home and garage projects. For tool distributors who would like to provide cost-effective tool sets in home improvement department, you are very welcome to discuss with us your budget, target price and customers' preferences!


Home Repair Tool Kit

Octopus 8-Piece Ratcheting Combination Wrench Spanner Set

[Specifications]:

Material: Chrome Vanadium Steel
72 teeth 5 degree
Sizes Included: 8mm, 9mm, 10mm, 11mm, 12mm, 13mm, 14mm, 17mm
Package Contents: 8 x ratchet wrenches and 1x Oxford cloth bag

[Features]:

◆ Compliance with ANSI or DIN standard.
◆ Ratcheting box end with fine tooth ratchet and surface drive box end provides a stronger grip on fasteners.


10-Foot Long 16mm Wide Inch/Metric Measuring Tape

Width: 16mm
Length: 3M or 10 foot

◆ Retractable automatically.
◆ With belt clip and wrist belt for easy transportation.
◆ Triple-riveted hook.
◆ Shock-proof ABS case.


Mini Magnetized Tool For Screwdriver, Magnetizer/Demagnetizer

[Specifications]:

For hex shank size 6.35mm and round shank size 6.00mm
Overall Length: 27mm
Material: PP and Magnet
2 pieces in one pack

[Features]:

◆ This convenient magnetized tool can be slipped on to the shank of screwdrivers to help installing screws easily without having to worry about dropping the screw heads.
◆ Widely applications: it can be applied for hinge installation, fixing pendant, furniture assembly, vehicle repair and so on. Make you work more efficiently.
◆ Please do not put any magnent-sensitive equipment such as watches or sophisticated machines nearby this tool, to avoid the malfunction caused by the strong magnet.