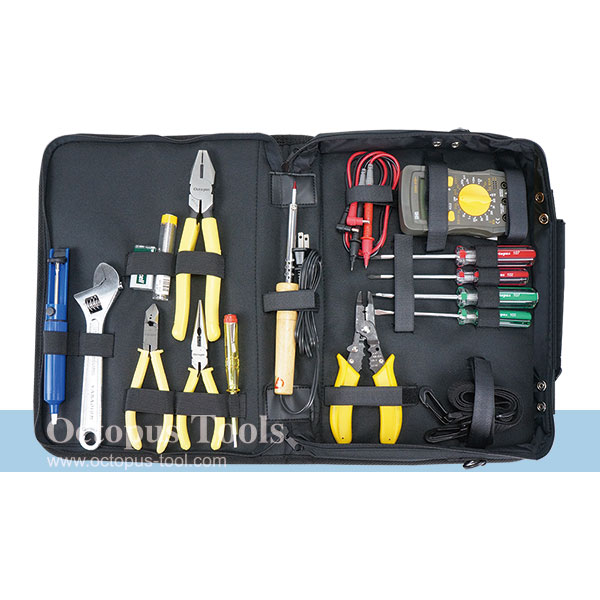 Brand:
Octopus
Electrical Problems Fixing Tool Kit

Electrical Problems Fixing Tool Kit, All Purpose Tool Sets
[Applications]:
Basic Home Repair
Vocational Training Kit
Soldering Project Kit
Repairing Electronic Devices
Fixing Electrical Problems
Building Makers' Crafts
[Package Includes]:
Tool bag 37.5x26x7cm (13x7.9x1.6 inch)
- Durable and water-repellent
- With strap for you to carry easily
Octopus KT-216 Long Nose Pliers 150mm
Octopus KT-406 Diagonal Cutting Plier 150mm
Octopus KT-118 Combination Plier 200mm
Multifunctional Crimping Pliers
Magnetic Tip Phillips Screwdriver #2 x 100mm
Magnetic Tip Slotted Screwdriver 6 x 100mm
Magnetic Tip Slotted Screwdriver 5 x 100mm
Magnetic Tip Phillips Screwdriver #1 x 100mm
8" Adjustable Wrench
Solder Sucker Desoldering Pump 200mm
Soldering Iron with Wooden Handle 110V 40W
Solder Tube
Digital Multimeter
Voltage Tester Screwdriver
[Features]:
◆ With spring and serrated jaws, the long nose pliers offers less fatigue user experience and is very durable because of being drop forged and having heat treated steel construction.
◆ The diagonal cutting pliers is sharp for cutting wire, plastic models, crafts, decorations…and more.
◆ The combination pliers helps tackle installation and repair work that requires cutting, bending, gripping, and pulling of wires and other workpieces.
◆ With solder-related tools and wire stripper included, this tool kit can deal with basic electronics, home appliance repairs and circuit board welding.
◆ A safe and reliable multimeter helps accurately troubleshoot automotive and household electrical problems. Multimeter is a test equipment that one must have in the tool box.
◆ Tool cabinet essentials must include long-lasting adjustable wrench and screwdrivers in Philips and Slotted which are versatile and always helpful.
[More about S-Turbo Tool Sets]:
Flexibility and Versatility
All tool kits from S-Turbo can be customized and the contents of tool kits including the bag that organizes everything can be adjusted according to your specific demands. Whatever the applications are, we can always provide the right tool kit! With more than 4,000 tool items kept in our warehouse, our strength is to offer the exact combination of tools you need. If you would like to print or laser-engrave your brand or logo on the outer surface of tool kits or on body of tools, we can also support your branding requirement.
Who will need tool sets/kits from S-Turbo?
If you are training centers or schools for technicians and engineers, service providers for telecoms equipment repair, service centers for automotive repairs, or searching for right tool kits to run maker space, you are always welcome to discuss your tool kits requirement with us!
Moreover, our tool kits are perfect for home and garage projects. For tool distributors who would like to provide cost-effective tool sets in home improvement department, you are very welcome to discuss with us your budget, target price and customers' preferences!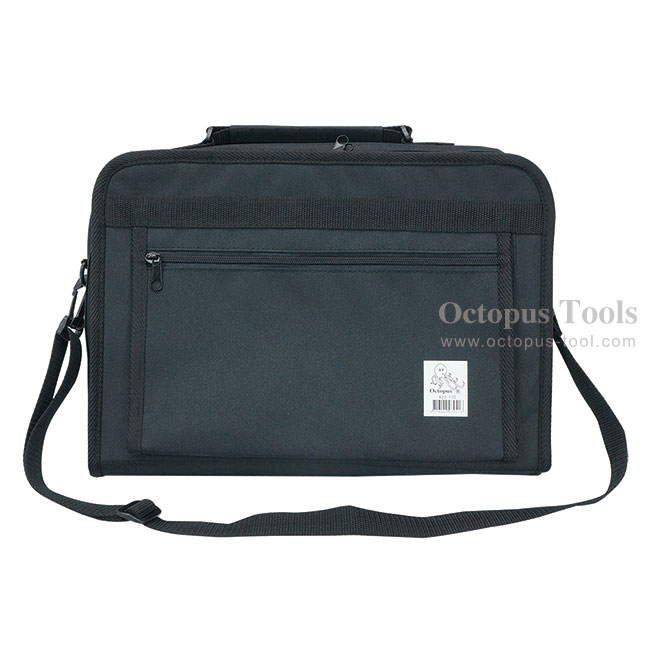 Electrical Problems Fixing Tool Kit

Pocket-Size Magnetizer Demagnetizer

◆ Material: Plastic
◆ Dimensions: 2cm x 3cm x 4cm
◆ Easy to use, no batteries required.
◆ Magnetizer or demagnetizer tool for screwdriver tips and all steel tools.
◆ Quicker and safe, compact and light weight!


Octopus 12-Piece Ratcheting Combination Wrench Spanner Set

[Specifications]:

Material: Chrome Vanadium Steel
72 teeth 5 degree
Sizes Included: 8mm, 9mm, 10mm, 11mm, 12mm, 13mm, 14mm, 15mm, 16mm, 17mm, 18mm, 19mm
Package Contents: 12 x ratchet wrenches and 1x Oxford cloth bag

[Features]:

◆ Compliance with ANSI or DIN standard.
◆ Ratcheting box end with fine tooth ratchet and surface drive box end provides a stronger grip on fasteners.