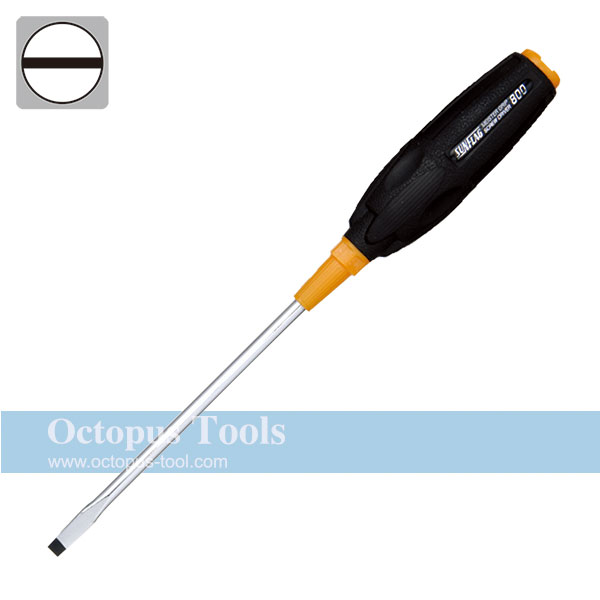 Brand:
SUNFLAG
Master Grip Driver, Slotted, 6mm


Master Grip Driver, Slotted, 6mm

◆ Streamline handle and non-slip elastomer grip reduces fatigue
◆ Highly precise black finish point based on JIS standard
◆ Magnetized tip
◆ Shank is made of special alloy steel.
◆ Tip Width: 6mm
◆ Shank Diam.: 6.3mm
◆ Shank Length: 150mm
◆ Overall Length: 280mm


Master Grip Driver, Slotted, 6mm

4" Long Nose Locking Pliers C.H. HANSON

Overall Length: 4" (100mm)
Material: Chrome molybdenum steel

◆ Easy squeeze release lever.
◆ Durable design.
◆ Wide applications and your best tool for gripping screws and tubes.
◆ 4" Locking Pliers is more suitable than 10" Locking Pliers for you in hard-to-reach areas.


Screw Rust Removal Liquid ZC-28 Engineer

Capacity: 100ml
Chemical Compound: Ammonium Thioglycolate

◆ Neutral liquid makes working safely. No acid or alkali contains.
◆ Especially designed to remove rust on small components, such as rusted screws.
◆ Rust can be removed in seconds!

[User Manual]:

1. Apply enough liquid to the rusted screw.
2. The liquid immediately reacts with the rust and turns purple.
3. Remove the screw after sufficient penetration.
4. Rinse it in water after rust removal.
5. Be sure to apply anti-rust agent.
6. Be aware of stains and tarnish on the metal parts around the screw.

[Caution]:

1. Wear protective equipment such as eyeglasses, gloves, etc. while working to avoid contact with eyes and skin.
2. Wash your hands after use, and gargle with clean water.
3. Keep out of reach of children.
4. Store in a cool and dry place, out of direct sunlight.
5. This product has a peculiar smell.
6. Do not inhale or drink.
7. Do not mix with other chemicals.
8. In case of eye contact, immediately flush the eye with clean water for at least 15 minutes and seek medical attention.
9. If swallowed, drink plenty of water and seek medical attention.
10. If inhaled, immediately move to a place of fresh air and rest and seek medical attention if you feel unwell.
11. In case of skin contact, immediately rinse thoroughly with clean running water.


7 in 1 Exchangeable Ratcheting Screwdriver Set

[Specifications]:

Shank Dia.: 6.0mm
Shank Length: 60mm
Handle Material: ABS+TPR

[Info on Replacement Bits]:

1. Bit Material: S2 (HRC 55-60)
2. Sizes of 1/4" Bits: Phiilps - #1, #2, #3 & Slotted - 4mm, 6mm
3. Bit Holder Material: PE

[Features]:

◆ Non-slip comfortable grip handle made of ABS+TPR
◆ Super S2 grade bit, makes the tool set strong and durable.
◆ 72-gear ratchet imcorporated.
◆ 3-way ratcheting feature, forward/lock/reverse
◆ Replacement blades meet most of your maintance requirement and stored in the holder.