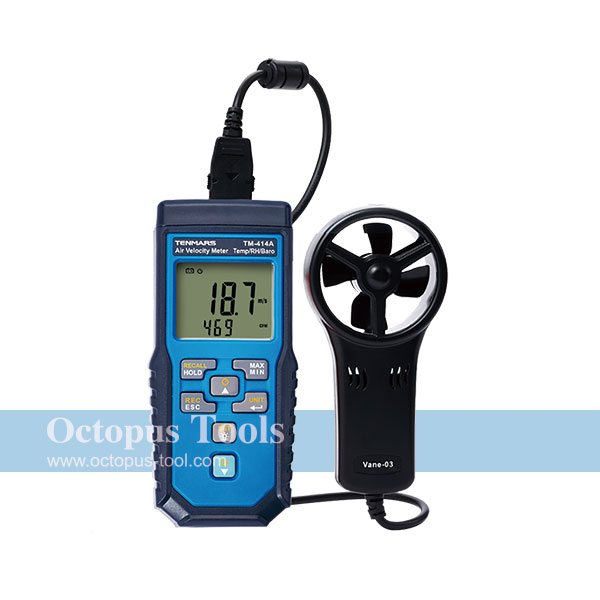 Brand:
TENMARS
Anemometer TM-412


Anemometer TM-412

Model: TM-412A

Measurement Range of Wind Speed:

m / s: 0.4 ~ 35
km / hr: 1.5 ~ 125
mph: 0.9~75
Beaufort: 1 ~ 11
ft / min: 79 ~ 6800
kts: 0.8 ~ 65

Measurement Range of Wind Volume: CMM/CFM 0 ~ 9999
Measurement Range of Temperature: -20℃ ~ 60℃(-4°F ~ 140°F)
Size of Probe: 135x67x31mm
Size of Anemometer: 140x65x38mm

◆ Suitable to measure wind speed for ventilation system
◆ Split fan, can monitor and read at the same time
◆ Big screen allows easy reading
◆ Memories up to 99 records
◆ Fan, diameter at 45mm, with 4 blades
◆ With Max., Min. and average value, and "hold" function
◆ Auto shut down function, low battery reminder
◆ Memory call out function, LED light for reading in dark
◆ Comes with: Instruction leaflet, storage bag and detetive probe


Anemometer TM-412

Temp.& Humidity Meter BK-854

Case Material: ABS
Size: 95x89x32mm
Weight: 83g
Power Supply: 2 AAA batteries (not included)
Operating Temperature: 0℃ ~ +40℃
Temperature Measuring range: 0℃ ~ +50℃
Humidity Measuring Range: 20% ~ 99%

◆ Multi function: Time, alarm, date, temperature and humidity monitor
◆ Displays in Fahrenheit or Celsius
◆ Wireless tabletop design.
◆ Proper indoor humidity control is beneficial to allergen.


Ultra COB LED Slim Flashlight w/ Magnet Base

[Features]:

◆ This flashlight adopte COB technique making multi LED chips packaged together as one module to have the advantage of thermal resistance, larger cooling area, and higher lighting efficiency.
◆ With micro adjustment lumen switch, thie flashlight can be adjusted incrementally.
◆ With powerful magnet in the base, the flashlight can be fixed on the metal and provide a hand-free user experience.
◆ 180° swivel hanging hook makes it more easy to store and carry.
◆ Build in 2350mAh Li-ion battery.

[Specifications]:

LED Max Power: 15W LED COB light
Li-ion Rechargeable battery: 3.7V 2350mAh
Charger Input: AC100~240V 50/60Hz
Power Output: 5.0V 1000mAh
Charger Time: 3.5~4.0 hours
Active Time: 2.5 hours
Storage Temperature: -20℃~70℃
Operation Temperature: -5℃~50℃
Product Size: 375(L) x 40(W) x 30(H)mm
With 5V 1A USB charger and USB cable.

[Notes]:

1. The flashlight works approximately 2.5 hours when full light is on and 12 hours when semi light is on.
2. Charging LED Indicator -
◆ Red light on means flashlight is in charging.
◆ Blue light on means charging is completed.
◆ Yellow light on means low battery.