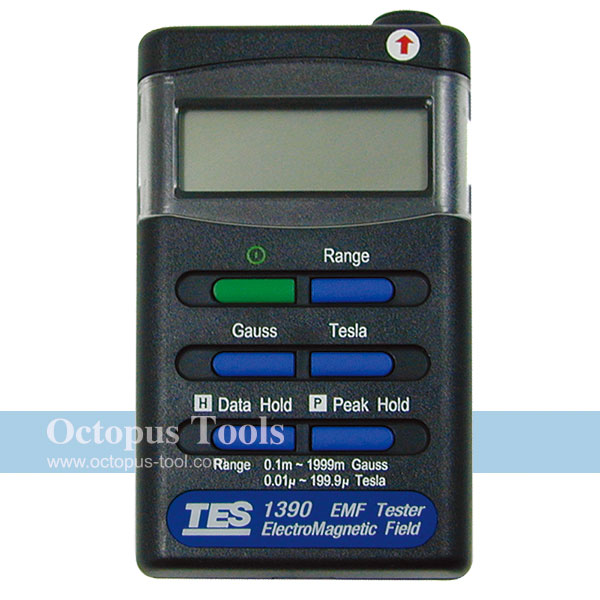 Brand:
TES
Electro Magnetic Field Tester TES-1390


Electro Magnetic Field Tester TES-1390

◆ This tester is designed to provide user a quick, reliable and easy way to measure electromagnetic field radiation levels around power lines, home appliances and industrial devices
◆ The EMF tester is a cost effective, hand-held instrument designed and calibrated to measure electromagnetic field radiation at different bandwidths
◆ Display micro Tesla & milli Gauss in the same tester
◆ Data hold, Peak hold function
◆ On-line computer, Data logging (1392) function
◆ Display: 3-1/2 digits. Max. indication 1999
◆ Range: 200 / 2000 milli Gauss
200 micro Tesla
◆ Resolution: 0.1 / 1 milli Gauss
0.01 / 0.1 micro Tesla
◆ Number of Axis: Single axis
◆ Band Width: 30 Hz to 300 Hz
◆ Accuracy: +/- (3% + 3d) at 50Hz / 60Hz
◆ Over-Input: Display shows "OL"
◆ Sampling Time: Approx. 0.4 second
◆ Battery: 4 pcs size AAA (Alkaline Battery)
◆ Battery Life: Approx. 60 hours
◆ Operating Temp and Humidity: 0 ℃ to 40 ℃ (32℉ to 104℉) below 80%RH
◆ Storage Temp and Humidity: -10 ℃ to 60 ℃ below 70%RH
◆ Weight: Approx. 165g
◆ Dimensions: 111(L) x 64(W) x 34(H) mm
◆ Accessories: Operation Manual, 4 pcs size AAA (Alkaline Battery), RS-232 interface / software (1391/1392)
◆ Datalogging Capacity: 16000 Point Data logging


Electro Magnetic Field Tester TES-1390

Temp.& Humidity Monitor HTC-2

Size: 100x110x21.5mm
Weight: 155g
Power Supply: 1 AAA battery (not included)
Storage Condition: -20℃ ~ 60℃, 20~80%RH
Temperature Measuring range (monitor): 0℃ ~ +50℃(-32℉ ~ 122℉)
Temperature Measuring range (probe): -50℃ ~ +70℃(-58℉ ~ 158℉)
Humidity Measuring Range: 10% ~ 99% RH
Resolution: Temp. 0.1℃ (0.1℉) / Humidity 1% RH
Accuracy: Temp. ±1℃ (1.8℉) / Humidity ±5% RH

◆ Proper indoor humidity control is beneficial to allergen.
◆ Large LED monitor
◆ The monitor itself can measure room temperature, the probe can measure outdoor and refrigerator/freezer temperature.
◆ Displays in Fahrenheit or Celsius. Can switch to 12HR or 24HR
◆ Memorize the maximum and minimum record
◆ Desk stand & wall mount design.


Multi Layer Plastic Storage Box 420x200x180mm B-422

[Specifications]:

Dimensions: 420x200x180mm
Material: PP

[Features]:

◆ Durable and accountable multi-purpose tool organizer!
◆ Double-layer design for more spacious storage space together with adjustable dividers to create more possibility for customization.
◆ Built in padlock eye increases security.
◆ Plastic storage box with handle for easy transportation.
◆ Patent rugged design makes the tool box stronger and be able to sustain wear.
◆ S-Turbo provides comprehensive solutions for organizing tools with ease and conveniences.


6-Outlet Power Strip 1650W, 3.6M Long

[Specifications]:

Outlet: 6
Cord: 3.6M
Power: AC 125V 15A 1650W

[Features]:

◆ With its overload-protection feature, it cut power automatically to protect electronic devices when over-current is detected.
◆ Strong copper wires 2.0m㎡x3C conduct electricity quickly with more safety.
◆ Mounting holes in the back secure the power strip to walls, and with an extra hole on the cord for hanging easily.
◆ Right-angle grounded plug keeps cord close to the wall and saves space.