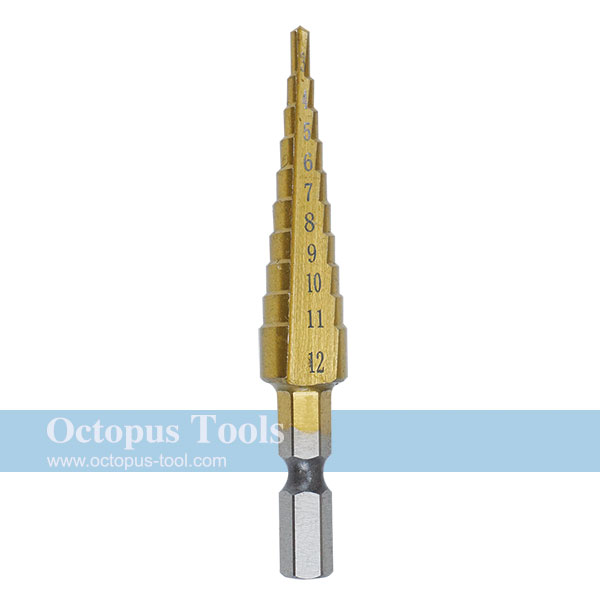 Brand:
Octopus
Step Drill Bit (Hex Shank)

◆ With this product, you can save time without changing drill bits.
◆ Perfect for drilling holes on iron, copper, and aluminum
◆ Shank (Hex) diameter: 6.35 mm / Shank Length: 24.3mm
◆ Product Length: 70.7mm
◆ Step Size: 3, 4, 5, 6, 7, 8, 9, 10, 11, 12 mm
◆ Speed: 400 - 800 rpm for metal, and 900 - 2000 rpm for non-metal.
◆ Made with high quality high speed steel for longer life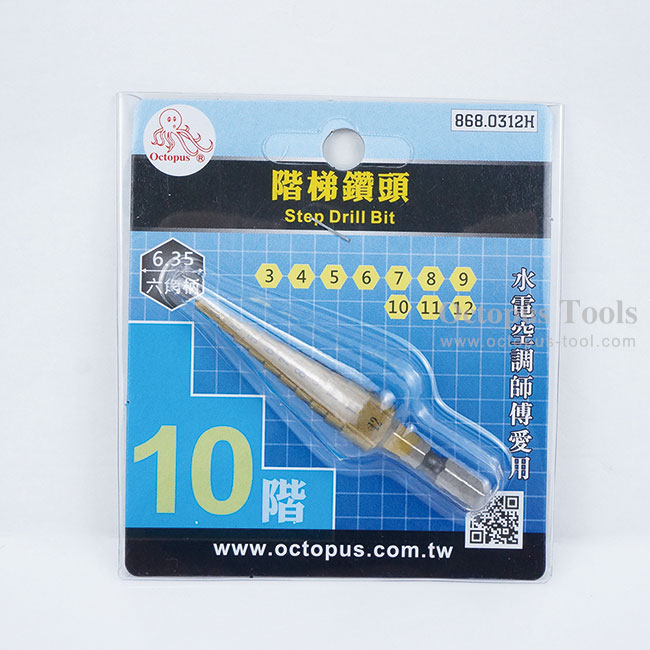 Step Drill Bit (Hex Shank)

Ripsaw Blade Set

◆ Twin-blade design makes drilling easier
◆ Ideal for building sites, can be used on tiles and plaster boards to cut and drill holes
◆ Blade P/N 468.BN201 is included.
◆ Overall Length: 200mm
◆ Blade Length: 100mm
◆ Blade Thickness: 1.25mm
◆ Material: SK steel


Octopus 12-Piece Flex-Head Ratcheting Combination Wrench Spanner Set

[Specifications]:

Material: Chrome Vanadium Steel
72 teeth 5 degree
Sizes Included: 8mm, 9mm, 10mm, 11mm, 12mm, 13mm, 14mm, 15mm, 16mm, 17mm, 18mm, 19mm
Package Contents: 12 x flex-head ratchet wrenches and 1x Oxford cloth bag

[Features]:

◆ Compliance with ANSI or DIN standard.
◆ 180° pivoting flex head reduces fatigue and provides easy control.
◆ Ratcheting box end with fine tooth ratchet and surface drive box end provides a stronger grip on fasteners.


[Specifications]:

Material : Carbon steel
Hole Size: Dia. 3-11.5mm
Blade: 81mm
Overall Length: 127mm
Hardness: HRC55-58

[Features]:

◆ A professional pipe deburring tool.
◆ Tapered blade ideal for reaming holes in sheet metal, aluminum and similar materials.
◆ The bit can be used with the standard T-handle or other interchangeable handles (6.35mm hex drive).
◆ It can be attached to a power driver, too. (Not for use with Impact Drivers).