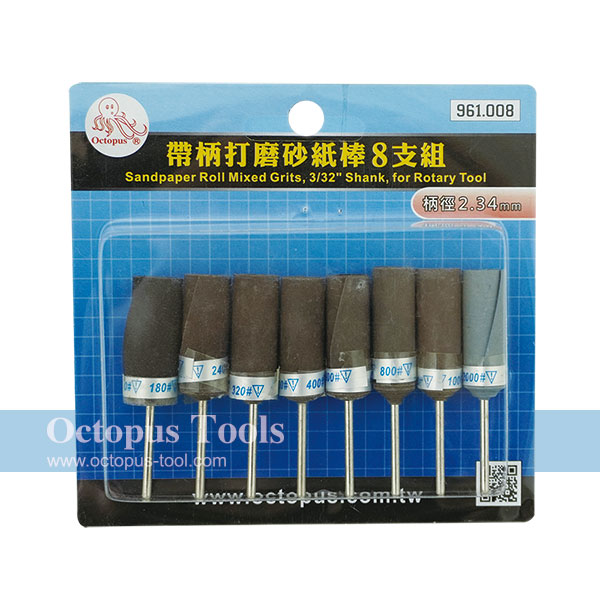 Brand:
Octopus
Sandpaper Roll Mixed Grits, 3/32" Shank, for Rotary Tool

Sandpaper Roll Mixed Grits, 3/32" Shank, for Rotary Tool
Grits Included: #180, #240, #320, #400, #600, #800, #1000, #2000
Shank: 2.34mm
Material: Silicon Carbide
Package: one piece for each grit, 8 pieces per pack.
◆ Work perfect with rotary tools in grinding.
◆ For grinding on stone, metal, non-metal...etc.
◆ Please apply from coarse to finer grits. It's suggested to use these sandpaper rolls with some water.
◆ After using for a period of time, the surface wore can be tore down to renew. Please don't tear the bottom part of the roll otherwise the sanpapers bonding on roll will be loosen.
◆ Please always wear eye protection when using grinding tools.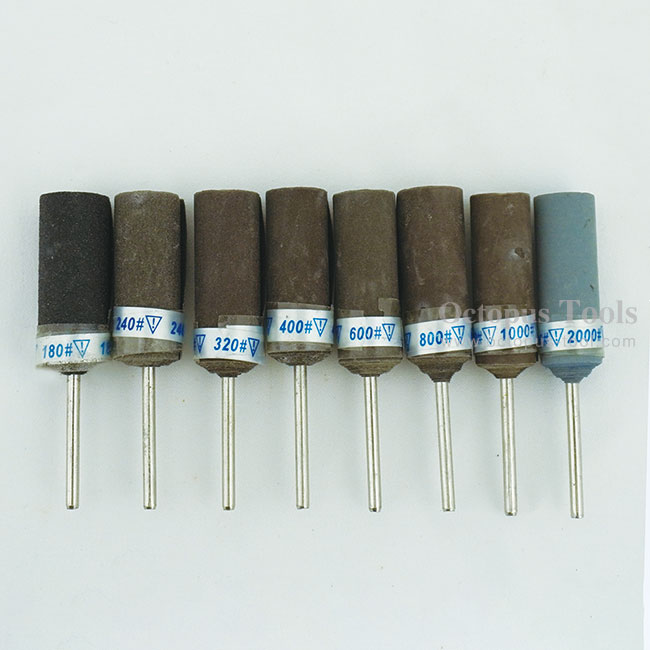 Sandpaper Roll Mixed Grits, 3/32" Shank, for Rotary Tool

Silicon Carbide Grinding Stone Assorted Shapes/Brown w/ Mandrel Set

[Specifications]:

Grit: 5 pieces in 600# and 1 piece in 180#
Shape: Assorted
Color: Brown
Shank: 3.00mm
Package Included: 6 pieces of grinding stone and a plastic stand sizes at 67x34x 70mm to help organize these mounted points.
Max. Rotary Speed: 15000rpm

[Features]:

◆ Used in grinding and polishing for aluminum, iron, steel, stainless steel, and metals.
◆ Usually being applied in gold fingers on PCB.


[Specifications] -

3 Speed Adjustments: 5000 / 10000 / 15000rpm
Collet Size: 2.34mm x1 / 3.2 mm x1
Material of Collet: Aluminum
Battery: Li-Ion 3.7V 600mAh
Interface: USB micro
Charging time: 2hrs (5V/0.5A)
No-load Operation Time: 100mins
Size: 145x31mm
Weight: 90g

[Features]:

◆ Based on working situation, there are 3 speed adjustments
◆ Built-in motor made in Japan reassures security.
◆ With 3.7V Li-Ion battery, the rotary tool can be used for 100 mins consecutively.
◆ Micro USB interface makes charging simple and convenient.
◆ Pen-shape design makes it very easy for makers.
◆ By changing the accessories, this rotary tool can drill, grind, grave and polish.