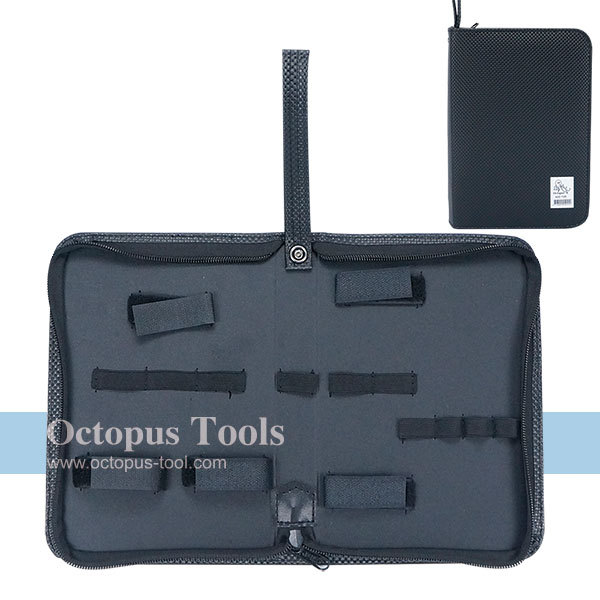 Brand:
Octopus
Tool Bag Small Size 8.6x6x1.4 inch

Tool Bag Small Size 8.6x6x1.4 inch
[Specifications]:
Color: Black
Material: PVC
Outer dimension: 8.6x6x1.4 inch
[Features]:
◆ Zippered and light weight.
[Note]:
◆ Tools are not included.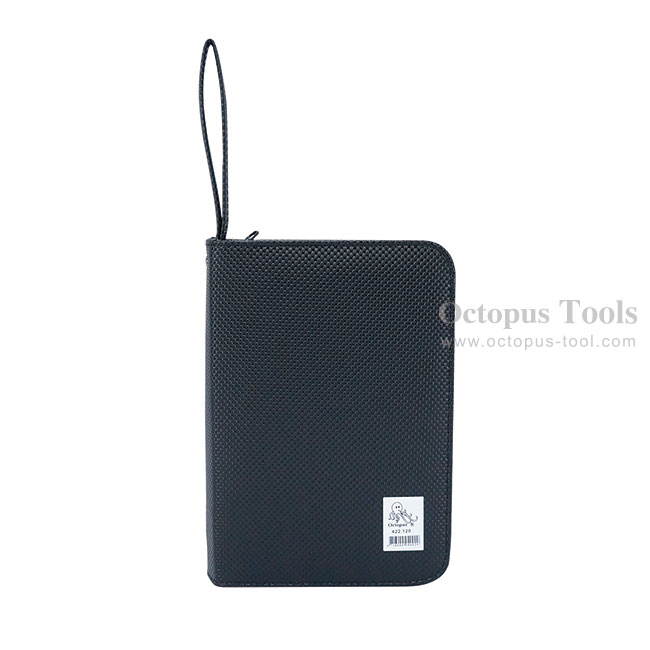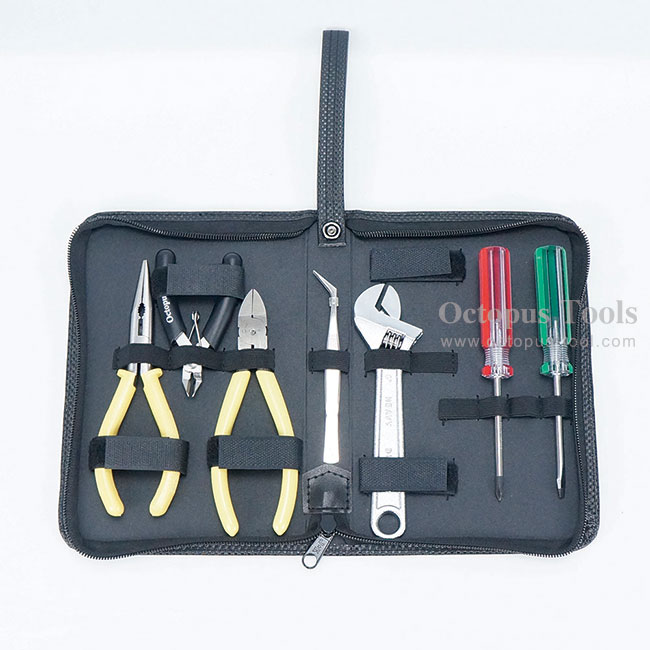 Tool Bag Small Size 8.6x6x1.4 inch

Home Repair Tool Kit, General Household Tool Set, All Purpose Tool Sets

[Applications]:

Basic Home Repair
Vocational Training Kit

[Package Includes]:

Tool bag 22x15x3.5cm (8.6x6x1.4 inch)
- Strong and wear-resistant

Non-magnetic Tweezers 113mm
Octopus KT-13 Long Nose Pliers 140mm
Octopus KT-18 Diagonal Cutting Pliers 125mm
Octopus KT-603 Flush Cutter 90mm
Magnetic Tip Phillips Screwdriver #2 x 100mm
Magnetic Tip Slotted Screwdriver 6 x 100mm
6" Adjustable Wrench

[Features]:

◆ With spring and serrated jaws, the long nose pliers offers less fatigue user experience and is very durable because of being drop forged and having heat treated steel construction.
◆ The diagonal cutting pliers is sharp for cutting wire, plastic models, crafts, decorations…and more.
◆ The blade of the flush cutter is made of hard and sharp stainless steel. The size of the flush cutter is handy and can fit well in your palm.
◆ Tool cabinet essentials must include long-lasting adjustable wrench and screwdrivers in Philips and Slotted which are versatile and always helpful.

[More about S-Turbo Tool Sets]:

Flexibility and Versatility

All tool kits from S-Turbo can be customized and the contents of tool kits including the bag that organizes everything can be adjusted according to your specific demands. Whatever the applications are, we can always provide the right tool kit! With more than 4,000 tool items kept in our warehouse, our strength is to offer the exact combination of tools you need. If you would like to print or laser-engrave your brand or logo on the outer surface of tool kits or on body of tools, we can also support your branding requirement.

Who will need tool sets/kits from S-Turbo?

If you are training centers or schools for technicians and engineers, service providers for telecoms equipment repair, service centers for automotive repairs, or searching for right tool kits to run maker space, you are always welcome to discuss your tool kits requirement with us!

Moreover, our tool kits are perfect for home and garage projects. For tool distributors who would like to provide cost-effective tool sets in home improvement department, you are very welcome to discuss with us your budget, target price and customers' preferences!


Solder Sucker Desoldering Pump Plastic 200mm

◆ Material: Plastic and Nickel-plated Iron
◆ Length: 200mm
◆ Shaft Dia.: 23.5mm
◆ Tip Dia.: 5mm
◆ Weight: 40g
◆ Using this Vacuum Desoldering Pump to remove melted solder by pushing the release button and the retracting plunger will create strong vacuum at the tip.
◆ Easy one-handed use


KOTELYZER Zero Soldering Butane Gun

Model: Zero

Overall Length: 170mm
Weight: 65g
Soldering iron temp.: 500℃(60W)
Gas Container Capacity: 10ml
Operation Time: 40mins
Fuel: Please use pure butane to ensure normal lifetime.

◆ Lightweight and easy to carry without having to be restricted to plug and look for power source.
◆ With safety lock design, makes operation safer!
◆ This soldering gun is ready for being used after being heated up for 90 seconds.
◆ The bottom is in semi transparent color which helps users to see through the remaining gas volume easily.
◆ Please use it under ventilating environment and always use it carefully.
◆ Any detergent with alcohol must not be used to clear the injection point of gas for safety reason.