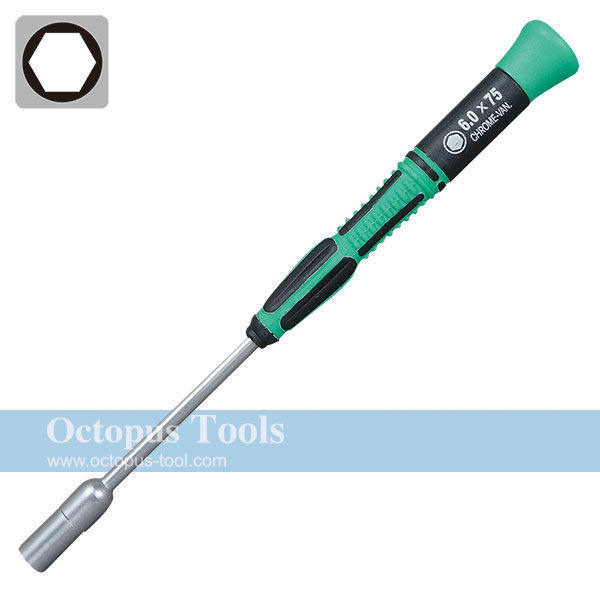 Brand:
Octopus
Precision Screwdriver (Nut Setter 6 mm) 175mm Long


Precision Screwdriver (Nut Setter 6 mm) 175mm Long

◆ Size: 6.0 mm
◆ Shaft Length: 75 mm
◆ Total Length: 175 mm
◆ Material: Nickel Chrominm Molybdenum Vanadium Steel


Precision Screwdriver (Nut Setter 6 mm) 175mm Long

Replaceable Precision Screwdriver Set (4pcs/set)

◆ Shaft length can be adjusted from 25 mm to 90 mm.
◆ Handle Length: 97 mm
◆ Slotted 1.5 mm, 2.5 mm, 3mm & Phillips#00, #0, #1


Ceramic Alignment Driver, Single End, Philips #0

◆ Perfect tool for adjusting electronic parts, video cameras, radio equipments, computers, wireless equipments, TV/VCR or communication equipments.
◆ This driver has cap to protect the tip and can be brought easily with the pocket clip.
◆ Tip Size: Philips #0
◆ The Length of the Bit: 15 mm
◆ Total Length: 130 mm
◆ Color: Grey
◆ Weight: 6 g


Solder Sucker Desoldering Pump SS-02 Engineer

[Specifications]:

Body Material: Aluminum
Surface: Anodized finish with high corrosion resistance
Size: φ20 × 153
Weight: 52g
Cylinder Capacity: 9cc (ml)
Silicone Nozzle: Internal dia. 2mm / External dia. 4mm





[Features]:

◆ Smart mechanish allows easy and continuous operation with one hand.
◆ Designed for sucking up melted solder easily and efficiently.
◆ Self-cleaning shaft makes sure no clogging.
◆ The elastic and heat-resistant silicone nozzle, which withstands contact with a soldering iron 350℃ max, is able to make the solder sucker adhere on board closely.
◆ Suction force is up and the suck-up result is great with less residue.
◆ Spare silicone tube is included for replacement, and you can cut it in desired length.