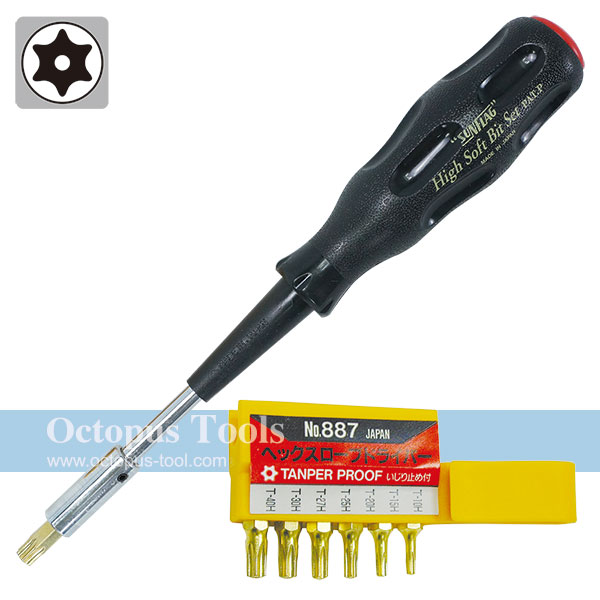 Brand:
SUNFLAG
Tamper-resistant Screwdriver Set SUNFLAG 887

Tamper-resistant Screwdriver Set SUNFLAG 887
◆ Bit Length: 30mm
◆ Bits included are, Security Torx T10 / T15 / T20 / T25 / T27 / T30 / T40
◆ Shank Diam.: 6.35mm
◆ Shank Length: 100mm
◆ Overall Length: 210mm
◆ Weight: 220g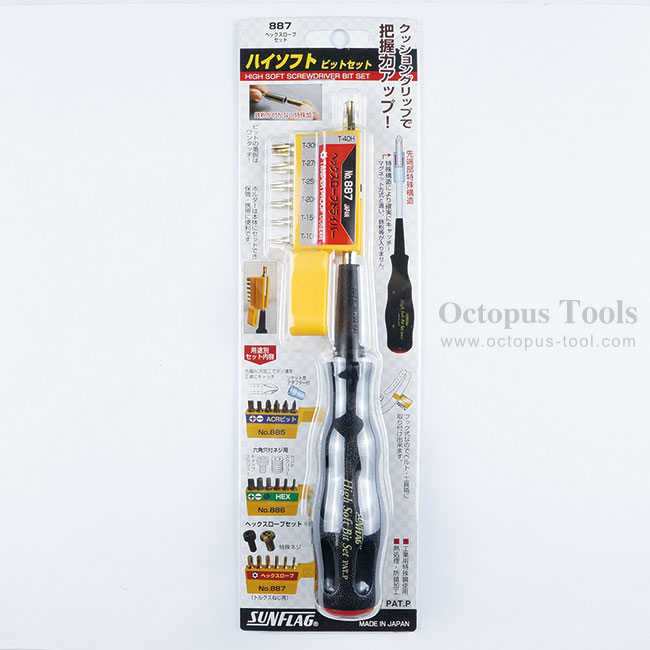 Tamper-resistant Screwdriver Set SUNFLAG 887

Tool Kit 12pcs/set KS-20

◆ Pocket sized, light and compact
◆ This kit includes,
◎ 125mm Slant edge nippers
◎ 125mm Long nose pliers
◎ 125mm Tweezers
◎ Circuit testing driver with spare bit: Philips #00 / Philips #1 / Philips #2 / Slotted 2.5mm / Slotted 3.5mm / Slotted 5.5mm / Hex nut bit 5.5mm / Awl (square)
◎ Cutter knife (S)
◆ Case Size : 160 x 90 x 35mm
◆ Weight: 0.5 kg


Multi-Functional Wire Stripper PAW-01 Engineer

Material of Body: High Carbon Steel
Material of Grip: Alloy Steel and ABS elastomer
Stripping Capacity: 0.05 - 8mm2
Cutting Capacity: 0.05 - 6mm2
Length: 210mm
Weight: 359g

◆ Multi-functional wire stripper with stripping, cutting, and crimping functions 3-in-1.
◆ Patented wire stripper for ultra fine wire, bold line, speaker cable, flat cable
◆ Easy to use by turning the adjustment knob in the minus direction you can peel off the ultra-fine wire.
◆ Easy to set the length of the stripped part with strip gauge.
◆ With cutting and crimping functions.






Octopus 8-Piece Ratcheting Combination Wrench Spanner Set

[Specifications]:

Material: Chrome Vanadium Steel
72 teeth 5 degree
Sizes Included: 8mm, 9mm, 10mm, 11mm, 12mm, 13mm, 14mm, 17mm
Package Contents: 8 x ratchet wrenches and 1x Oxford cloth bag

[Features]:

◆ Compliance with ANSI or DIN standard.
◆ Ratcheting box end with fine tooth ratchet and surface drive box end provides a stronger grip on fasteners.