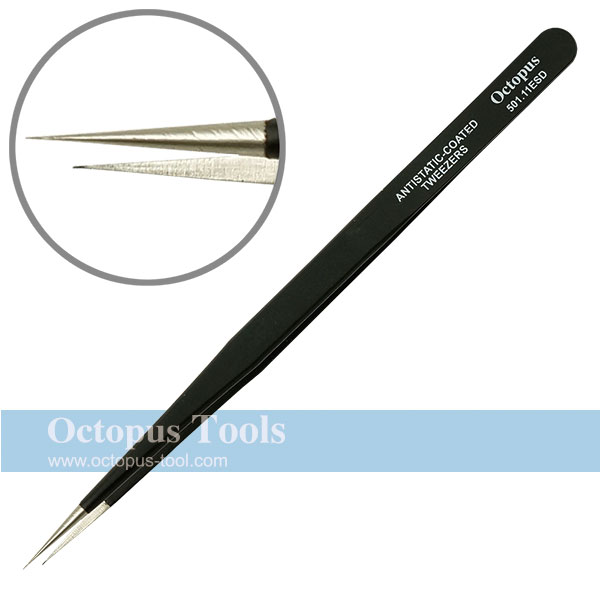 Brand:
Octopus
ESD Stainless Steel Non-Magnetic Tweezers SS

ESD Stainless Steel Non-Magnetic Tweezers SS
Model: SS
Material: Stainless Steel
Tip: Fine Tip, Straight
Length: 140mm
◆ ESD coating protects delicate electronic components from static damage.
◆ Non-magnetic and made of stainless steel makes tweezers resistant to most acids, rust and other corrosive agents.
◆ Especially designed for electronic industries and laboratory work
◆ Also can be applied in craft, hobbies, and jewelry-making...etc.

ESD Stainless Steel Non-Magnetic Tweezers SS

IC ESD Foam ZC-03 Engineer

◆ Conductive urethane foam with high density of 10mm thickness
◆ Protects IC and other static-sensitive components
◆ Suitable for storage and portable use
◆ Material: Polyethylene with carbon black contained
◆ Surface Resistivity: less than 5×10*6Ω
◆ Size: 250 x 300 x 10mm


ESD Manual Vacuum Pen Max.100g

[Specifications]:

Contents included: 1pc of pickup vacuum pen, 3pcs of φ7mm pads, 3pcs of φ10mm pads, 3pcs of straight probes, and 3pcs of curved probes.

[Features]:

◆ ESD Safe.
◆ For picking small parts and components such as BGA / QFP / QFN / SOP / PLCC.
◆ Holds max. 100g.
◆ Pads in different sizes are included.
◆ Easy-to-use and pen-type design for SMD work, especially for sensitive components.


Double-sided Soldering Aid Repair Tools Set

[Specifications]:

Length: 180mm
Material: Black Oxide Carbon Steel
Package Included: 6 units, each of the units is double-ended.

[Features]:

◆ For electronic repairs, soldering, and desoldering.
◆ This soldering aid tool set includes brushes, scrapers, hooks, awls...etc.
◆ For various applications such as positioning components, cleaning with brush, removing residues with scraper, expanding hole with awl.