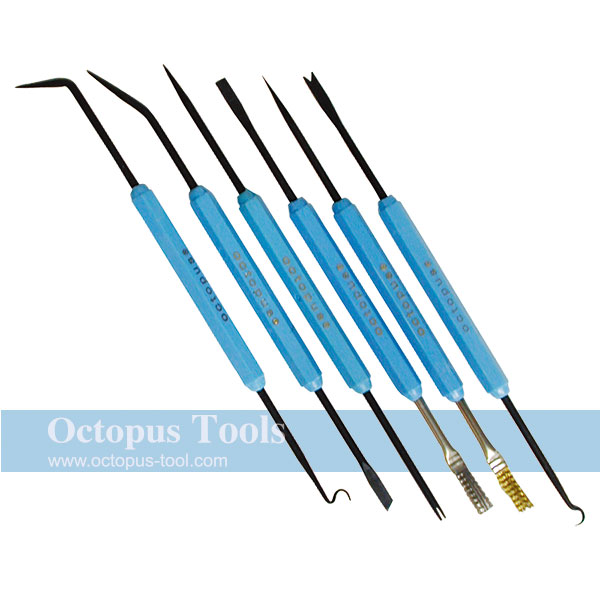 Brand:
Octopus
Double-sided Soldering Aid Repair Tools Set

Double-sided Soldering Aid Repair Tools Set
[Specifications]:
Length: 180mm
Material: Black Oxide Carbon Steel
Package Included: 6 units, each of the units is double-ended.
[Features]:
◆ For electronic repairs, soldering, and desoldering.
◆ This soldering aid tool set includes brushes, scrapers, hooks, awls...etc.
◆ For various applications such as positioning components, cleaning with brush, removing residues with scraper, expanding hole with awl.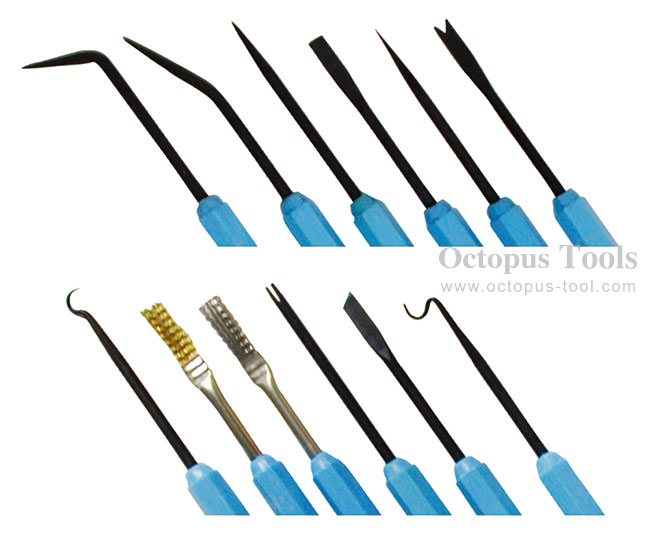 Double-sided Soldering Aid Repair Tools Set

Spring Hook SS-21 Engineer

◆ Ideal for inserting, removing, and adjusting coil springs of electronic components or precision instruments
◆ Suitable for removing connector leads, aligning leads of resistor or condenser and testing arrangements of wires.
◆ 3mm diam. x 215mm overall length         


Micro Connector Pliers PA-09

◆ With this pliers, you can crimp AWG #32 to #20 wires in micro connectors or D-sub connectors of different makers.
◆ With "ENGINEER" original joint screw prevents the joint from being loose and offers you easy maintenance.
◆ With strap hole
◆ Oil resistant elastomer (TPR) handle
◆ Capable of crimping 1.25 to 2.5mm pitch connector pin (narrow-pitch), D-Sub connector contact can also be crimped.
◆ With locking latch and coiled spring
◆ Material: S55C
◆ Weight: 145 g, compact and light body for fatigue-free work
◆ For the application sizes of wires, please contact our sales team trading@octopus.com.tw for more details.


Flux Dispenser With Pen Top

[Specidications]:

Capacity: 50c.c.

[Features]:

◆ Pen top tip creates more intuitive user experience.
◆ Using flux dispenser in the process of soldering helps control the flow of flux and solvents more precisely without causing unwanted waste.
◆ Durable plastic bottle sustains wear.