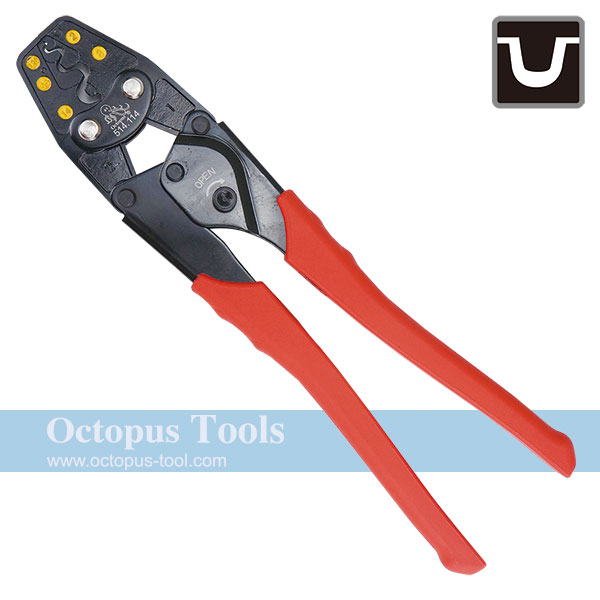 Brand:
Octopus
Octopus Ratchet Terminal Crimping Tool 1.25-14m㎡

Octopus Ratchet Terminal Crimping Tool 1.25-14m㎡
[Specifications]:
Crimping size (m㎡): 1.25, 2, 5.5, 8, 14
Weight: 424g
Length: 280mm 
[Features]:
◆ With this terminal crimping tool, you can crimp easily and cause no harm to the terminals.
◆ Ratchet mechanism ensures great crimping quality.
◆ This high leverage crimping tool features a fixed device and inside precision grinding.
◆ By turning the screw on the crimping tool clockwise to release the jaw, the terminal won't be harmed.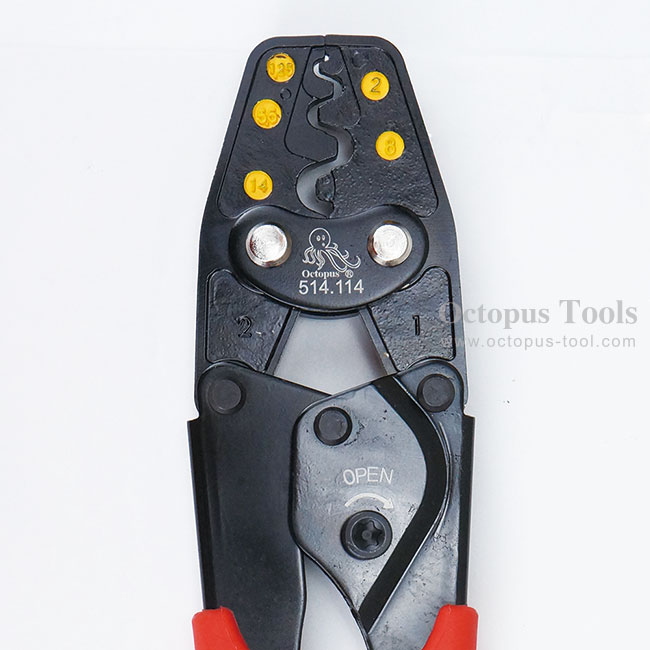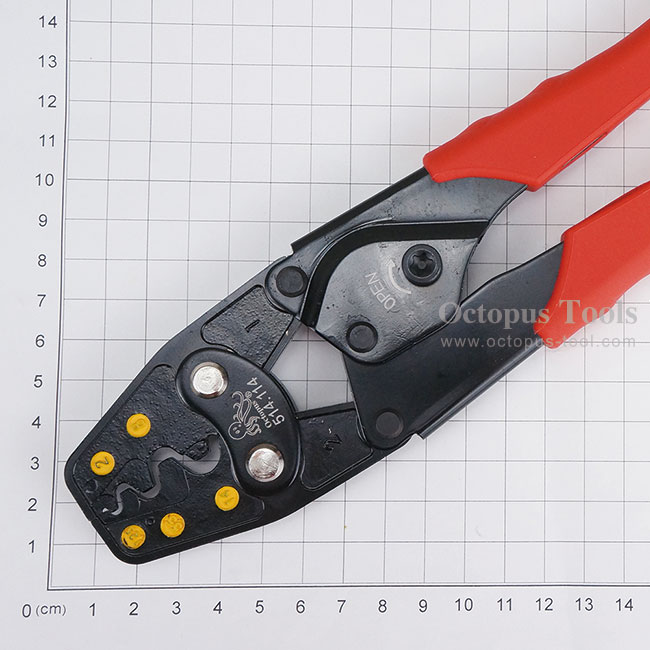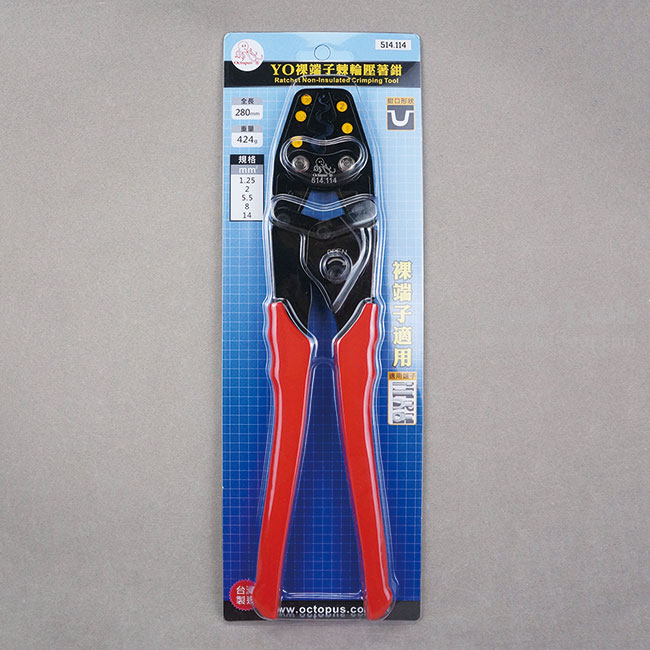 Octopus Ratchet Terminal Crimping Tool 1.25-14m㎡

DC/AC Clamp Meter CM-312A+

◆ Your best tool helps you troubleshoot electrical problems
◆ Display:3 3/4 digits, 4000 counts
◆ AC Voltage:4V, 40V, 400V, 600V
◆ DC Voltage:400mV, 4V, 40V, 400V, 600V
◆ AC Current:4A, 40A, 200A, 400A
◆ Resistance:400Ω, 4KΩ, 40KΩ, 400KΩ, 4MΩ, 40MΩ
◆ Dimensions:76 x 208 x 30 mm


Multi-Functional Wire Stripper PAW-01 Engineer

Material of Body: High Carbon Steel
Material of Grip: Alloy Steel and ABS elastomer
Stripping Capacity: 0.05 - 8m㎡
Cutting Capacity: 0.05 - 6m㎡
Crimping Capacity: AWG16-10 for bare terminals and open-barrel terminals
Length: 210mm
Weight: 359g

◆ Multi-functional wire stripper with stripping, cutting, and crimping functions 3-in-1.
◆ Patented wire stripper for ultra fine wire, bold line, speaker cable, flat cable
◆ Easy to use by turning the adjustment knob in the minus direction you can peel off the ultra-fine wire.
◆ Easy to set the length of the stripped part with strip gauge.
◆ With cutting and crimping functions.






[Specifications]:

Overall Length: 225mm
Material: Carbon Steel
Handle Material: TPR
Screw Head Size: Dia. 3~9.5mm
Removable Screws: Dome (Truss) Head, Round and Pan Head.
Cutting Capacity: Flat Cable dia. 2.6mm x 3 cores / Hard Wire dia. 3.2mm / Copper Wire dia. 4mm / Stainless Wire dia. 2mm / Stranded Wire 8m㎡
Crimping Capacity: Bare Terminals AWG16~12 (1.25~3.5m㎡)
Hardness: HRC 60±2
Weight: 350g

[Features]:

◆ Designed especially for electrician a multi-functional pliers with unique screw extractor.
◆ Eccentric high leverage structure, powerful in cutting and gripping.
◆ 21mm long blade and the specially-designed eccentric structure offer 30% more cutting power compared to conventional pliers.
◆ 2-way non-slip gripping jaw. Vertical serrations grip a screw head securely, while horizontal serrations hold a tie band and a thin plate securely.
◆ The unique T-shaped handle helps prevent the handle sleeve from twisting or turning round and has the feature of light-weight.
◆ Strap hole in the end of the handle prevents the pliers from falling.