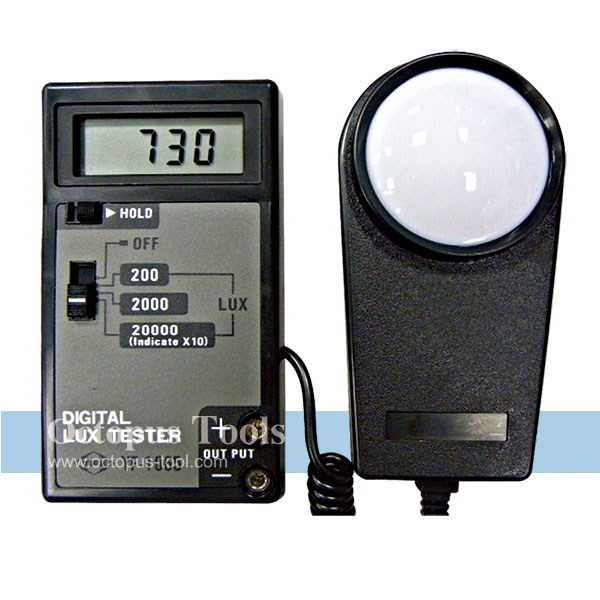 Brand:
YFE
Digital Lux Tester


Digital Lux Tester

◆ Please contact our sales team (trading@octopus.com.tw) for detailed specifications.


Digital Lux Tester

Handheld Tally Counter 4 Digit Display

[Specifications]:

Counts Range: 0000 to 9999
Display: 4 digits

[Features]:

◆ Quick reset knob on the side
◆ Easy for you to carry with the metal hoop
◆ Suitable for theaters, playgrounds, traffic etc.


Flexible LED COB Slim Worklight HL-9008

[Features]:

◆ With strong magnet base and flexible shaft, it's the perfect tool for repairing in dark areas.
◆ With 8W 30 chip COB LED.
◆ This work light is charged by standard USB cable (included).
◆ Powered by rechargeable Li-ion battery.
◆ One adapter and one USB cable are included.
◆ Tool for home, machine and automotive repairing.

[Specifications]:

1. Body Material: Plastic Nylon + Fiber Glass
2. Light Part Material: Plastic Nylon + Fiber Glass
3. Flexible Shaft Material: Metal
4. Lens Material: Acryl PMMA
5. Total Length: 445mm
6. Weight: 270g

[Instructions]:

1. To turn right and left for on and off, or you can turn the switch slightly in two different directions for preferable light.
2. With built-in 2300 mAh Li-ion battery for recharging power supply.
3. Connect USB cord to the USB charging port and plug into socket for re-charging.
4. LED charging indicator, red light on means in the middel of charging while blue light on means charge is completed.

[Cautions]:

1. Do not turn on the lumen switch when charging battery.
2. Always unplug after battery completely charged.
3. Do not disassemble the built-in battery.
4. Keep the LED light away from fire / water or heat / damp place.
5. Do not immerse the LED light in water / solvent.
6. To avoid harming eyes, do not look the LED light directly.


Octopus 8-Piece Ratcheting Combination Wrench Spanner Set

[Specifications]:

Material: Chrome Vanadium Steel
72 teeth 5 degree
Sizes Included: 8mm, 9mm, 10mm, 11mm, 12mm, 13mm, 14mm, 17mm
Package Contents: 8 x ratchet wrenches and 1x Oxford cloth bag

[Features]:

◆ Compliance with ANSI or DIN standard.
◆ Ratcheting box end with fine tooth ratchet and surface drive box end provides a stronger grip on fasteners.