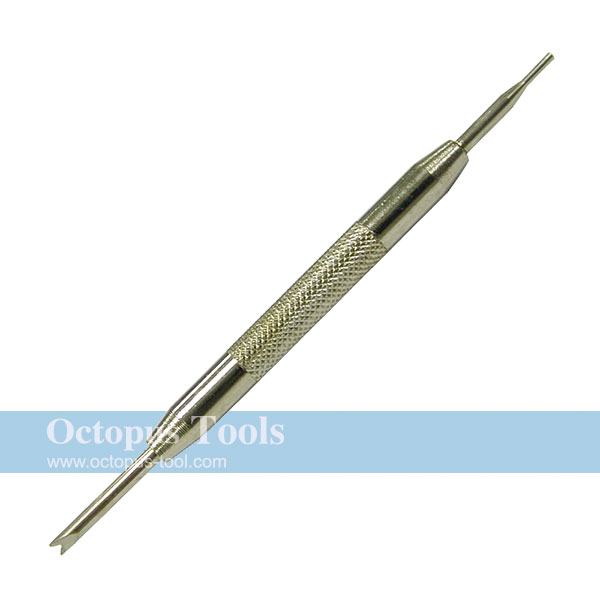 Brand:
Octopus
Watch Spring Bar Remover


Watch Spring Bar Remover

◆ With this removal tool, you can easily fit and remove spring bars from watch strap and band.
◆ Handle diameter: 5mm
◆ Shaft diameter: 2 mm
◆ 1mm Needle
◆ Length: 80 mm


Watch Spring Bar Remover

Watchmakers Eye Loupe No.7220

Watchmakers Eye Loupe No.7220

Magnification: 5X
Dia. Of Lens: 23mm

◆ Fits good in eye socket, can be used to repair watches


Leather Hole Punch Tool

◆ This Leather Hole Punch Tool can deal with leather, textile, and plastic materials.
◆ Sizes (mm):2, 2.5, 3, 3.5, 4, 4.5
◆ Revolving hardened punch heads
◆ Ergonomic and comfortable grip handle
◆ Length: 230mm


6-Piece Screwdriver Set for Watch Repair Slotted & Philips w/ Case

[Specifications]:

Size:

Slotted - 1.8, 2.4, 3.0mm
Philips - #000, #0, #1(3.0x110mm)

[Features]:

◆ Easy to store and organize with transparent portable plastic case.
◆ Thoughtful design includes magnifier on plastic case helps improve visibility for small objects and built-in screwdriver stand offer convenience when using.
◆ Information on sizes is marked clearly and can be seen from outside of the transparent plastic case.
◆ Rust proof handles and blades make the life of this tool set longer and more durable.
◆ Rotating caps on top offer great user experience.
◆ Wide application in watch repair, watch battery replacement, removal for watch bracelet screw links, eye glasses repair, jewelry work and electronics maintenance.