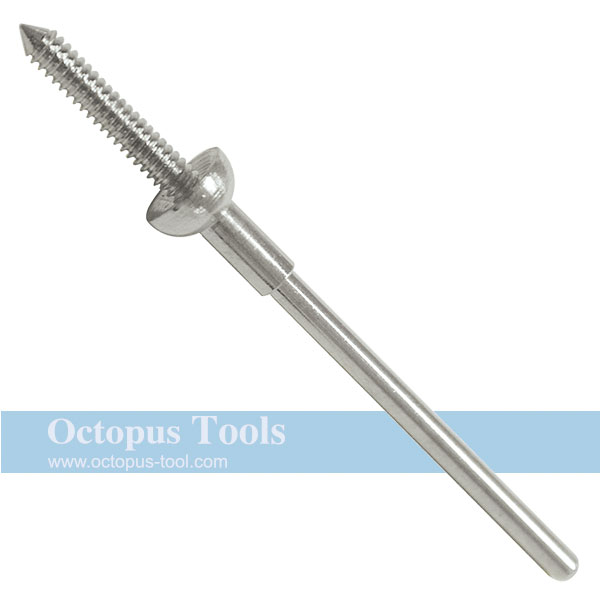 Brand:
Octopus
Screw Mandrel w/ Screw Like Head 3mm Shank


Screw Mandrel w/ Screw Like Head 3mm Shank

◆ For all types of rotary tools
◆ Hold various polishing tips
◆ Shank: 3mm
◆ Recommended Max. Rotary Speed: 8000rpm
*Rotary speed also depends on the bur in the front.
◆ Package: 10 pcs/pack
◆ P/N: 956.262 shank 2.34mm is also available.


Screw Mandrel w/ Screw Like Head 3mm Shank

Mini Bench Grinder Polisher w/ Flexible Shaft 1500-10000rpm

[Specifications]:

Input: 110V 60Hz
Power: 1/6HP (120W)
Variable Speed Control: 1,500 - 10,000 RPM
Product Dimension: 205 x 125 x 165mm (8" x 4.9" x 6.5")
Grinding Wheel Size: 75x20x9.53mm
Weight: 2.85kgs
Collet: 3mm
Wheel Arbor: 9.5mm

[Features]:

◆ A multifunctional tool which can be used for grinding, sanding, polishing, cleaning and rust removal.
◆ You can use this grinder for workbench for any of your DIY projects.
◆ With variable speed control, and ofterm used on materials such as metal, stone and glass.
◆ Delivering high precision when working on small wood or metal objects with a flexible long-arm shaft.
◆ 3mm-shank burs can be assembled to the flexible shaft to increase maneuverability.
◆ Powerful 120W high-speed motor and speed control from 1500 to 10,000 RPM
◆ Also an excellent rotary tool used in deburring, grinding, and buffing.
◆ Cast iron base, four rubber feet on the bottom and one screw hole in the front provide better balance and achieve higher stability when being used and put on your workbench.
◆ Holes for assembling safety shields.
◆ Open vents in the back help prevent overheating problem.
◆ Includes a 3" aluminum oxide grinding wheel, 3'' wool felt polishing wheel, and a 33.5" long flexible shaft.


Always prefer more personalized style of your notebooks, helmets, or glassware? With this Octopus Rotary Tool, you can etch, grind, burnish, and polish easily in your own ways. Let Octopus Rotary Tool helps you create beautiful and unique handmade projects! This easy-to-use craft tool poses no entry barrier even for beginners and is designed for all skill levels!

[Specifications]:

Pen Type Grinder -

Variable Speed: 4,000-16,500RPM
Power: 10W
Size: 139 x Φ24mm
Weight: 80g
Collet Capacity: 0.3-3.2mm

Adapter -

Input: AC 100-240V 50/60Hz
Output: DC 18V 0.5A
Plug Type of Adapter: A Type

[Contents]:

1. Pen Type Grinder x 1
2. Adapter x 1
3. Spring Collet 0.3-3.2mm x 1
4. Diamond Burs x 5
5. Collet Nut 2.34~3.2 mm x 1 / Collet Nut 1.6~2.34mm x 1
6. Collet x 1

[Features]:

1. Wide applications such as removing 3D printer support, metal polishing, leather burnishing, glass etching, woodworking, manicure...etc. It can be used in removing rust or paint from metal surfaces, creating precise and delicate patterns on your laptops or ornaments, or in sanding away the rough edges on wood frames…, there are more applications than you can imagine.
2. Variable speed from 4,000rpm to 16,500rpm allows tasks to be completed efficiently in different scenarios on different materials.
3. The pen-type grinder weighs 80g only, its lightweight and slim pen-type design make it handy and easy to handle for detailed projects.
4. With 0.3-3.2mm collet capacity, it is compatible with most rotary tool accessories on the market. Various mounted points and burrs can be used together with our Octopus Rotary Tool.
5. With quick release button, you can replace the burs and mounted points quickly and conveniently.


Silicon Carbide Grinding Stone Assorted Shapes/Brown w/ Mandrel Set

[Specifications]:

Grit: 5 pieces in 600# and 1 piece in 180#
Shape: Assorted
Color: Brown
Shank: 3.00mm
Package Included: 6 pieces of grinding stone and a plastic stand sizes at 67x34x 70mm to help organize these mounted points.
Max. Rotary Speed: 15000rpm

[Features]:

◆ Used in grinding and polishing for aluminum, iron, steel, stainless steel, and metals.
◆ Usually being applied in gold fingers on PCB.