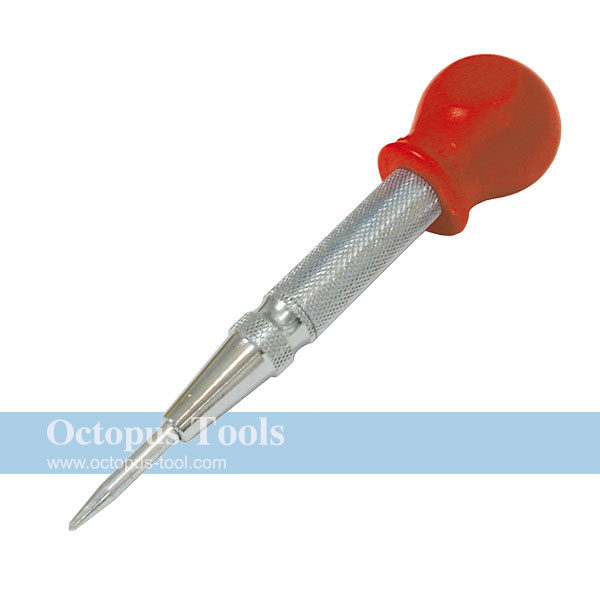 Brand:
Octopus
Automatic Center Hole Punch


Automatic Center Hole Punch

◆ Length: 130mm
◆ Shaft diameter: 13mm
◆ S2 Steel Point
◆ Adjustable impact/stroke lets you easily regulate striking force
◆ Great for punching and marking, perfect for using on wood, metal and plastics
◆ Also can be used as glass window breaker for safety reason
◆ Hardened steel point and brass-electroplating body

◆ Instructions on how to use it,

1. Place the point of the center punch onto the surface/
2. Line it up and apply downward pressure with the center punch.
3. Adjust the cap to clockwise or counter-clockwise to regulate the striking force.


Automatic Center Hole Punch

Digital Caliper Inch/Metric 6"

Material: Carbon Steel
Metric Measuring Range: 0~150mm (Resolution: 0.01mm)
Imperial Measuring Range: 0~6" (Resolution: 0.0005")
Battery Required: LR44(included) or SR44

◆ With this carbon-steel-made caliper, you can glide easily and smoothly when measuring.
◆ With position lock function.
◆ One button allows switching between inch and millimeter easily and quickly.
◆ Can be set to zero when differential measurements are required.
◆ Extra large LCD screen for easy and clear reading.


Octopus Electric Engraver Tungsten Carbide Point Tip 110V

[Specifications]:

Input: 110V
Power: 22W 0.2A
Weight: 260g
7200 strokes per minute
Origin: Tungsten carbide point tip is made in USA and the body of the engraver is made in Taiwan

[Features]:

1. Easy To Use – You can simply plug in and the engraver is ready to work! As easy as holding a pen.
2. Wide Application – This engraver can be applied on stone, glass, and metal. You can use it on most of the surfaces when engraving is needed.
3. Adjustable – 5-position stroke adjustment to regulate the engraving depth from 0.1 – 1 mm.
4. Multifunctional Purposes - With this tool you can mark your valuables to protect them from being lost or engrave your name directly to make your personal belongings easier to spot. This tool has being used by worldwide jewelers in creating their artworks and adopted by DIY enthusiasts.
5. Safety - High-impact plastics and double insulated body provide safety and assure no electricity leakage.
6. Great Value - One spare tungsten carbide tip angled at 60° is included in the set.

[Cautions]:

Please always wear eye protection while using and do not fall electric engraver down nor make it run without actually engraving.