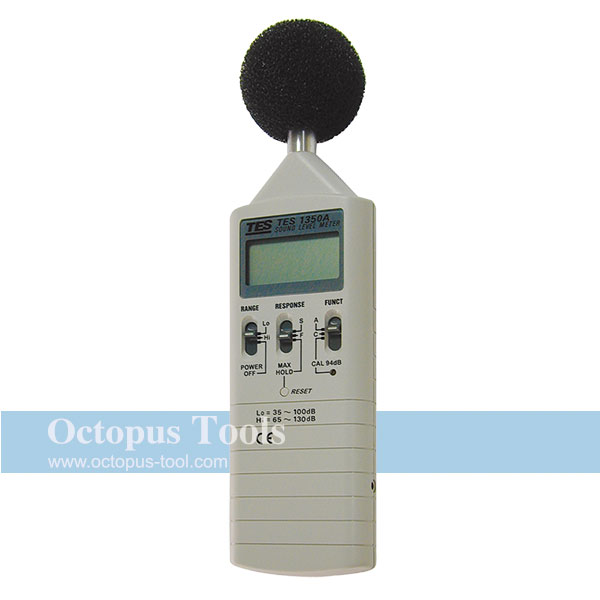 Brand:
TES
Sound Level Meter TES-1350A


Sound Level Meter TES-1350A

◆ 0.1dB resolution
◆ Range from 35 to 130dB
◆ Maximum hold function
◆ A & C frequency weightings
◆ Fast and slow dynamic characteristic models
◆ Back-screw for tripod fixture
◆ For detailed specifications, please contact our sales team trading@octopus.com.tw for more information.


Sound Level Meter TES-1350A

Handheld Tally Counter 4 Digit Display

[Specifications]:

Counts Range: 0000 to 9999
Display: 4 digits

[Features]:

◆ Quick reset knob on the side
◆ Easy for you to carry with the metal hoop
◆ Suitable for theaters, playgrounds, traffic etc.


3M Earmuffs (NRR 22 dB)

◆ Plastic structure offers light and compact using experience.
◆ Noise Reduction Rating (NRR) of 22 dB for moderate and low noise exposures.


Measuring Wheel Dia 8" Tri-foldable

[Specifications]:

Measuring Capacity: 9999.9m or 9999.9ft
Minimum: 1 inch or 10cm
Wheel Diameter: 8" (208mm)
Radius: 4" (104mm)
Expanded Size: 39" (990mm)
Storage Size: 19" (480mm)
Weight: 1310g

[Features]:

◆ Precise and lightweight.
◆ Easy to carry and store.
◆ Balanced and inline design.
◆ Sturdy tri-fold handle with TPR pistol grip.
◆ Trigger brake and counter control at the handle.
◆ Re-set on the bottom.
◆ Hi-traction TPR tire.
◆ Firm and solid kickstand.
◆ The 8" measuring instrument facilitates the use in rough terrain and making long distance measurements.
◆ Its foldable feature allows great portability and easy storage.
◆ The pistol grip has a remote trigger and a remote counter reset button, the operators do not have to bend down to reset the counter.
◆ Made of high quality P.P. impact-resistance and high-hardness TPR material.
◆ The product is equipped with sealed bearing at the measuring wheel to provide smooth mobility and long-term durability.