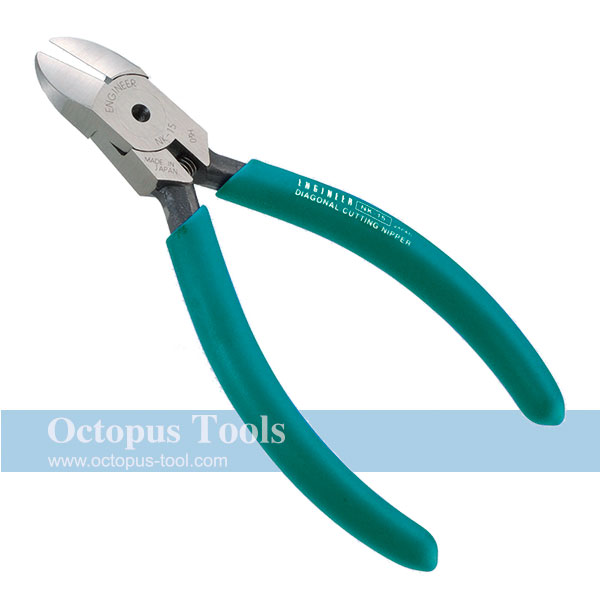 Brand:
ENGINEER

Diagonal Nippers 125mm NK-15

Diagonal Nippers 125mm NK-15
◆ Sharp and durable cutting for precision wiring work
◆ With opening angle adjuster
◆ With coiled spring
◆ Material: S55C
◆ Hardness: HRC 58±4
◆ Overall Length: 130mm
◆ Grip Width: 54mm
◆ Jaw Width: 15mm
◆ Jaw Thickness: 8mm
◆ Blade Length: 17mm
◆ Cutting Capacity: copper wire φ2.6mm


Diagonal Nippers 125mm NK-15

Voltage Tester 7380-NL SUNFLAG

◆ The capability of this Voltage Tester is to check the voltage between AC 80V ~ 250V / DC 120 ~ 350V
◆ Widely used in homes, offices, workshops and factories to find out hidden electicity wires and power source.
◆ Please do not use it when it's wet.
◆ Tip Width: 3mm
◆ Tip Thickness: 0.4mm
◆ Bit Length: 20mm
◆ Overall Length: 120mm
◆ Weight: 30g


Insulated Driver, Slotted, 5mm

◆ Tip: Slotted
◆ Size: 5.0x100mm
◆ Overall Length: 200mm
◆ For 100V - 220V
◆ Magnetized Tip


Multi-Functional Wire Stripper PAW-01 Engineer

Material of Body: High Carbon Steel
Material of Grip: Alloy Steel and ABS elastomer
Stripping Capacity: 0.05 - 8m㎡
Cutting Capacity: 0.05 - 6m㎡
Crimping Capacity: AWG16-10 for bare terminals and open-barrel terminals
Length: 210mm
Weight: 359g

◆ Multi-functional wire stripper with stripping, cutting, and crimping functions 3-in-1.
◆ Patented wire stripper for ultra fine wire, bold line, speaker cable, flat cable
◆ Easy to use by turning the adjustment knob in the minus direction you can peel off the ultra-fine wire.
◆ Easy to set the length of the stripped part with strip gauge.
◆ With cutting and crimping functions.